Posted on
Wed, Jan 4, 2012 : 2:55 a.m.
Brendan Gibbons goes from 'zero to hero' for Michigan football team
By Rich Rezler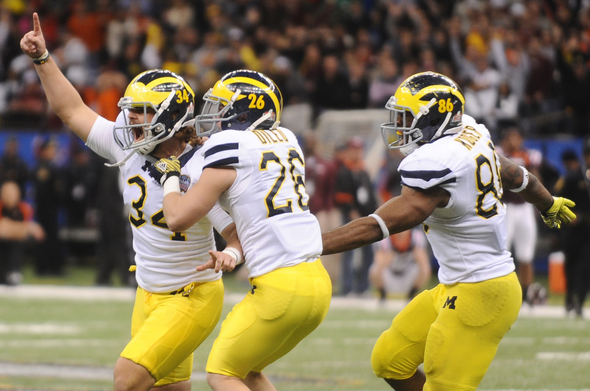 Melanie Maxwell | AnnArbor.com
NEW ORLEANS — After being mobbed by his teammates and stopped for multiple interviews while trying to make his way off the Superdome floor late Tuesday night,
Brendan Gibbons
veered toward the stands and extended his hand to the celebrating Michigan fans.
At one point, he stopped and grabbed an extended Sharpie. Some lucky guy now has an autograph from one of the unlikeliest of heroes on his 2012 Sugar Bowl program.
Gibbons was one of the most maligned players on a well-maligned Michigan football team last year. Suddenly the redshirt sophomore from West Palm Beach, Fla., is the personification of the Wolverines' turnaround season.
His 37-yard field goal in overtime — coming moments after Virginia Tech's placekicker, with his own intriguing back story, missed one — gave the Wolverines a 23-20 victory, their first BCS bowl win in more than a decade.
And what was Gibbons, a laid back character with long hair and full beard, thinking about just before that game-winning kick?
Brunettes.
"Every time we were struggling in kicking, Coach tells me to think about girls on a beach or brunette girls," Gibbons said. "So that's what we did. Made the kick."
He went 3-for-3, in fact, to finish 13-for-17 on the year for a Michigan team that went 11-2 and ended its season dancing in falling maize and blue confetti. Last year, he went 1-for-5 before losing his starting job to Seth Broekhuizen and watching his team get blown out in a second-tier bowl.
His roommate, offensive lineman Taylor Lewan, called it a "classic zero to hero" moment.
But is Gibbons ready to be the poster child for Team 132, the term coach Brady Hoke uses to describe the 2011 Wolverines? Not so fast.
"You make that kick, everyone's confident in you," Gibbons said. "But you still have haters that don't believe in you."
Welcome to the life of a place-kicker.
Virginia Tech senior Justin Myer knows all about it. He went from an unknown third-stringer to hero to Sugar Bowl goat in the span of two weeks.
He missed a 37-yard attempt wide right on the Hokies' overtime possession, setting up Gibbons for his heroics.
Virginia Tech starting kicker Cody Journell was suspended on Dec. 22 after his arrest for breaking and entering. Backup Tyler Weiss was sent home from New Orleans on Dec. 29 after missing the team's 1 a.m. curfew.
That left Myer, who had been used as a long-distance specialist this season, but was 0-for-2 with attempts coming from 57 and 53 yards.
He went 4-for-4 in regulation, including a 25-yarder with 2 seconds remaining to force overtime. His 43-yard kick early in the second quarter, which gave the Hokies a 6-0 lead, was Virginia Tech's longest field goal of the season.
"I told him he did a heck of a job," Virginia Tech coach Frank Beamer said. "He said he didn't quite get through that last one, but he did a nice job for us. And I'd have liked to have seen him make that last one."
Only one kicker can be a hero. On Tuesday night in New Orleans, that was Brendan Gibbons.
"I thought it was good when I hit it. Felt good coming off my foot," Gibbons said. "I just wanted to celebrate with my teammates, and it felt good to celebrate with them."
Rich Rezler is a sports producer for AnnArbor.com. Contact him at richrezler@annarbor.com or 734-623-2553.