Michigan-Ohio State ranked No. 1 Big Ten game by BTN writer, but is MSU game bigger?
Posted on Sat, Jul 14, 2012 : 10 a.m.
Michigan and Michigan State are expected to be two of the Big Ten's best football teams next season, so many of the year's top games likely will include one or the other.
According to Big Ten Network writer Tom Dienhart, that's exceptionally true.
Dienhart ranked his top-20 games that involve Big Ten teams, and nine of the top 10 featured either Michigan or Michigan State.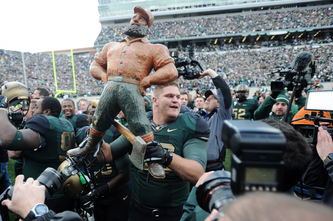 Melanie Maxwell | AnnArbor.com
His top game is the Wolverines' regular-season finale against
Ohio State
, which is always a safe choice. It's not only the Big Ten's premier rivalry, but one of the preeminent rivalries in all of sports.
Michigan's games against Alabama, Notre Dame and Michigan State also made the top 10. The catch?
Dienhart listed Michigan-Michigan State all the way down at No. 7, which seems exceptionally low for a game that could be the pivotal matchup in deciding who wins the Legends Division.
Factor in Michigan's four-game losing streak to the Spartans -- it has never lost five straight in the series since MSU joined the Big Ten in 1953 -- and the fact the Wolverines were physically outmatched in last year's game, and this year's matchup figures to be particularly intense.
Remember MSU lineman Will Gholston's punch to Taylor Lewan's throat? That's bound to spice things up, especially considering the pair of elite lineman will match up directly against each other on the field.
There has even been offseason drama as well, with Michigan State coach Mark Dantonio cutting off Wolverines receivers coach Jeff Hecklinski during a speech at a recruiting event in Kalamazoo, then later asking "where's the threat?" in regards to Michigan's recruiting prowess.
Of course, most of that is just noise. Perhaps the biggest reason the Michigan-Michigan State game will be one of the year's biggest is it likely will put the winner in the catbird's seat for a divisional crown.
Does that make it bigger than the Ohio State game for Michigan? Hard to say. The Game holds a special place in sports, yearly, and this season will pit Hoke against new Buckeyes coach Urban Meyer.
Hoke, for his part, said this offseason that although he's focused on ending the skid against the Spartans, his chief priority is beating Ohio State.
It's an interesting debate -- and one even fans seem to be split on, which is surprising. Here are some replies I received after tweeting that I was looking more forward to the MSU game:
@mattdepoint: I agree only because I'd love to have Michigan end the horrible losing streak to MSU
@sbnationdetroit: With you. U-M/MSU is my No. 1 Big Ten game by far.
@JonDouglass1: Considering UM hasn't beat MSU in 4 years. Can UM figure out how to beat Dantonio? OSU game's the sexier pick cause of Meyer.
@MaizeBlueNation: With you. U-M/MSU is my No. 1 Big Ten game by far.
@sbell021: still OSU, but MSU bigger this year than a typical year for reasons already stated by others (likely legends title/4 straight/etc) ... OSU gets the nod though bc it's last game of the year, Ohio State's bowl game, first matchup vs Meyer, hoke's first horseshoe trip.
@iAmBrookBanks: MSU game is more important for B1G title implications. OSU is still more important for fans though.
@JonDouglass1: If MSU didn't have the winning streak against UM going, probly different story. UM beat OSU last year...
@truferblue22: this year and only this year that game is more important. We need to end the streak
@jaredmichael928: The Game will always be most important. Welcoming Meyer to the rivalry with an ass kicking tops my priority list. MSU #2, ND #3
@adamdibart: MSU all day...conference alignment makes it so every single season if truly interested in B1G title...no way around that now

And then there was this one from @GreggHenson:
"Alabama."

Yep, it's going to be one of those years for Michigan. Buckle up.