Posted on
Mon, Oct 18, 2010 : 3:49 p.m.
Off week comes at right time for Michigan football team, but even Vince Lombardi might not help Wolverines defense
By Pete Bigelow
This Saturday, Rich Rodriguez plans to watch some film with his coaches, maybe catch some games from around the Big Ten and attend his son Rhett's youth football game -- if there's one on the schedule.
"I love having an open date," Rodriguez said.
For the first time in two years, the Michigan football team has an off week on its schedule, and it couldn't have come at a better time for the banged-up Wolverines.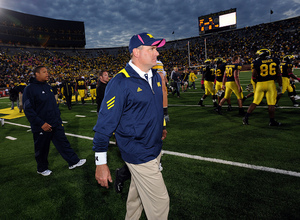 Lon Horwedel | AnnArbor.com
David Molk
and
Mike Martin
, anchors of their offensive and defensive lines, respectively, missed most of
Saturday's 38-28 loss to Iowa
with ankle injuries.
Quarterback Denard Robinson missed a little less than half of the game after aggravating a preexisting shoulder injury Rodriguez described as a "rotator cuff kind of sprain."
If there was a hypothetical game this upcoming Saturday, Rodriguez said he felt like Robinson would be ready to play, and said that Molk and Martin should be healthy by the time the Wolverines face Penn State on Oct. 30.
But he's glad no decisions are necessary.
The Wolverines (5-2 overall, 1-2 Big Ten), enter the break on a two-game slide. The team won't practice Monday or Tuesday, but will resume its normal schedule Wednesday.
When the Wolverines return, they'll focus on fundamentals, particularly on defense. Rodriguez said he's more disappointed in the defenders' ability to get off blocks than missed tackles. But he cautioned that team's struggles aren't relegated to the defense.
"Certainly, our defense has gotten its share of criticism because we haven't played well or consistently all year," he said. "Our turnovers the past couple of games (on offense). Our special teams have not been outstanding. We haven't kicked well. So there's a lot of things to get better at."
But the defense, which has allowed an average of 441 yards per game -- the worst in the Big Ten and 105th out of 120 FBS teams -- will certainly be a bye-week focal point.
Rodriguez said he and his coaches would take a three-pronged approach, dividing up their efforts into things the unit's doing well, things it's doing poorly and then filtering that list into things that are realistically correctable this season.
In his line of the day, Rodriguez said, "Vince Lombardi could come in and not fix some of the problems on defense," in the short-term.
That wasn't a knock on his defense or his coaches. The comment came in the context of discussing the seven of true freshmen who have seen extensive playing time on defense this season.
"The only way to get experience is to get experience," he said. "How can we limit those dangerous freshmen moments?"
Pete Bigelow covers the Michigan football team for AnnArbor.com. He can be reached at (734) 623-2551, via email at petebigelow@annarbor.com and followed on Twitter @PeterCBigelow.