Posted on
Tue, Nov 1, 2011 : 5:59 a.m.
Can Michigan persevere at Iowa while playing 5 freshmen on defense?
By Kyle Meinke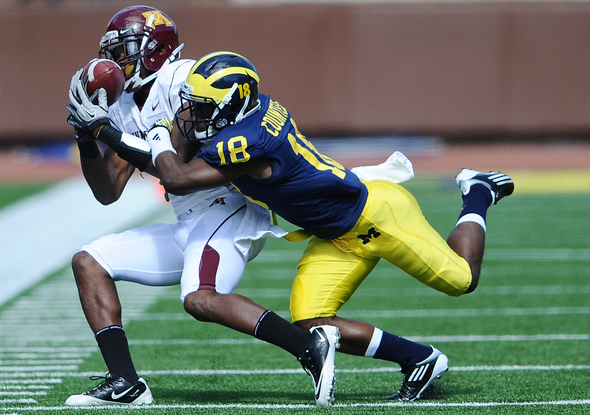 Melanie Maxwell | AnnArbor.com
Michigan football coach Brady Hoke said he's never competed for a championship with so many freshmen playing pivotal roles on defense.
That's about to change, he hopes.
The 13th-ranked Wolverines (7-1, 3-1 Big Ten) rose into a three-way tie atop the Legends Division last weekend after a 36-14 win against Purdue. They did it despite starting three freshmen on defense and two more playing reserve roles.
That's a lot of inexperience, especially considering junior safety Jordan Kovacs, a veteran leader, did not play due to a knee injury.
Hoke's not concerned, though.
"The best players have to play," he said. "If we don't play the best players, no matter who they are, where they're from, what age they are, then we're cheating the program. We're not going to cheat the program."
Cornerback Blake Countess might be the best example of that.
The 18-year-old from Baltimore has played well since beginning to ease into the rotation against Eastern Michigan. As his role has grown, so has the hype surrounding him. Eventually, he displaced a fifth-year senior, Troy Woolfolk, who has moved to safety.
In his first start against Purdue, Countess made just three tackles — not because he missed tackles, but because he was targeted so infrequently. That's the mark of a good corner, especially one who is a freshman.
"Other teams will try to pick on a freshman, especially in the secondary, because of how exposed they can be, especially in a man coverage," senior defensive tackle Ryan Van Bergen said. "I don't think anybody's really been trying Blake. They've maybe given him once or twice, where they try him out, but he's been consistent.
"That's one thing you look for in a freshman. He can make the big play, but can he be consistent?"
Michigan is about to find out, as it travels to Iowa on Saturday for a noon game on ESPN. The Wolverines have struggled in recent years at Kinnick Stadium, including a 30-28 loss in their last trip there in 2009.
Now, they'll take on the Hawkeyes with a cadre of freshmen — including two of whom are linebackers. That could be a tricky test for Michigan, as Iowa tailback Marcus Coker ran 32 times for 252 yards and two touchdowns last week in a loss at Minnesota.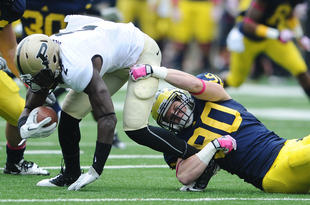 Melanie Maxwell | AnnArbor.com
Hoke thinks
Desmond Morgan
and
Jake Ryan
will be ready for the challenge.
Both played well against Purdue. Morgan led the team with nine tackles and Ryan came up with a huge fourth-quarter tackle-for-loss that led to a goal-line stand.
"What I like best about them is that they're football players," Hoke said in a nod to the players' physicality, toughness and improving fundamentals.
It was Morgan's first start since the Notre Dame game, when he was forced into duty due to an injury to then-starter Brandon Herron. He played badly, though, and junior Brandin Hawthorne started the next five games.
Turns out, though, Morgan was dealing with the effects of a hamstring injury. He had been one of the standouts during fall camp, Hoke said, but then was set back by the injury.
Morgan is healthy now, and the staff seems committed to him.
"I think he's a very instinctive linebacker," Hoke said. "I think he plays downhill well. I think he also, for a young guy, is grasping the defense more conceptually, and also the opponent and studying the offense."
Besides the three freshmen starters, defensive end Frank Clark and linebacker Brennen Beyer also have played a reserve role on the defense.
Meantime, Woolfolk has permanently moved to safety (regardless of the health of Kovacs), and started his first game there against Purdue.
So, that's three freshmen and a new safety. Michigan seems to really be testing the bend-but-don't-break nature of its defense, which is ranked No. 6 in points allowed per game (14.6).
Hoke said senior leadership will play an important role in weathering the storm.
"(The upperclassmen are) doing a great job since the day the kids got here in the summer," Hoke said. "A lot of freshmen hit the wall, sometimes. So far, these guys have been able to persevere and keep learning and getting better."
Kyle Meinke covers Michigan football for AnnArbor.com. He can be reached at 734-623-2588, by email at kylemeinke@annarbor.com and followed on Twitter @kmeinke.