Posted on
Fri, Feb 3, 2012 : 10:30 a.m.
Career of 'constant change' puts ex-Michigan star David Baas in Super Bowl
By AnnArbor.com Freelance Journalist
Associated Press
By Brian Peloza
For AnnArbor.com
INDIANAPOLIS -- David Baas values consistency because it's been a rare commodity in his seven-year NFL career.
After signing a five-year contract with the New York Giants in the off-season, Bass hopes he has found a home where familiarity becomes the norm.
Baas spent the first six years of his career in San Francisco, where he played for three head coaches after being taken in the second round of the 2005 NFL Draft.
The former University of Michigan standout has played some games at right guard, left guard, and center, during his career. And now he's about to play in the Super Bowl (Sunday, 6:30 p.m., NBC).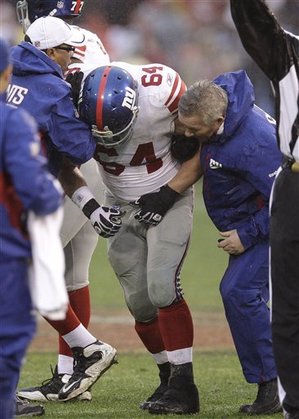 Associated Press
"Wow," said Baas, the Giants' starting center. "It's been crazy. Seriously, it's my seventh year and seventh offensive coordinator. I was talking to (New York quarterback Eli Manning) about this the other day. We were talking about being able to have consistency, but for me it's been constant change. It's hard to get to know somebody or dig deep and entrench yourself in somebody when there is constant change."
Baas often thought back to his days at Michigan playing for then-head coach Lloyd Carr, when he needed inspiration during tough times.
"Some of the examples they set, like how you go about things and how you handle yourself. … You go back to the basics and try to remember always where you came from and how you got there," Baas said. "It's always what has driven me. At times it's not easy, a lot of times it's not easy."
This season has been anything but easy for Baas. He missed three games late in the season due to headaches caused by a neck injury, causing him at one point to question if he would return this year. In total, Baas missed five games in the regular season.
"The low point of my career has been all of the injuries this season," Baas said. " I've never had to miss a regular-season game, and this year has been such an up and down with the injuries."
New York coach Tom Coughlin credited Baas for bouncing back from the injuries, after what was a short preseason to get accustomed to a new offense.
"He's been pressed right in duty, but he's done a great job for us," Coughlin said. "We fought our way through some injuries to get him healthy, but we're looking forward to his play this weekend."
Baas was somewhat worried about fitting in with his teammates after signing with New York. The Giants had cut longtime center Shaun O'Hara, a popular player with his teammates, once the lockout ended.
"The guys have been great and tried their best to pull me in and make me one of their own even though the situation with a couple of their guys had been here forever had to go," Baas said. "Even when stuff wasn't good, we stuck together and tried to pull each other tighter and tighter. We're here at the Super Bowl, so that has to say something."
Baas now fits in well, joking back and forth with teammates. He makes fun of lineman David Diehl's willingness to talk with media, while Diehl often jokes about Baas' "big head."
"It was tough losing those guys, but David Baas has been awesome," Diehl said. "He walked right in and fit into our offensive line room. It's great to have another veteran on the team who can learn the offense quickly.
"Offensive line play is so much about camaraderie and working together. As the season progressed and settled in, I think we've settled in and played well."
Baas has experienced quite the culture change this week preparing to face New England on Sunday in Super Bowl XLVI in Indianapolis.
As with most offensive linemen, Baas isn't always in high media demand. It's changed this week, as thousands of reporters from all over the world converge on Indianapolis to ask players a myriad of questions, many bordering on the absurd.
That's fine with Baas, who is playing in his first Super Bowl.
"It's amazing," Baas said. "I feel like this is once-in-a-lifetime opportunity. You don't want to let it go to waste."