Posted on
Tue, Sep 14, 2010 : 12:32 p.m.
Catching up with ... former Michigan quarterback John Navarre
By Michael Rothstein
Welcome to "Catching Up With ..." an occasional feature here at AnnArbor.com where we chat with someone who used to be involved with Michigan athletics. If there's someone you'd like to see AnnArbor.com catch up with, e-mail michaelrothstein@annarbor.com.
John Navarre played quarterback for Michigan for four seasons, from 2000-03, and started at least one game in every year. He is second all-time at Michigan in passing yards with 9,254, second in attempts with 1,366, completions (765), and touchdowns (72).
After leaving Michigan, Navarre played two seasons with the Arizona Cardinals, starting one game.
AnnArbor.com caught up with Navarre earlier this summer.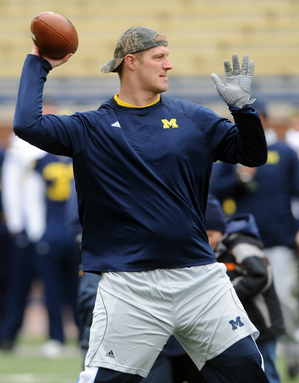 Lon Horwedel | AnnArbor.com
Q: What have you been up to these days?
John Navarre: I work for Alro Steel and raise the kids. That's about it. Back in Waterford, Wisconsin, just north of Milwaukee about 30 minutes.
Q: So how'd you get involved with the steel company?
JN: Alro Steel, we're a steel distributor. I was working there when I was done playing, and I knew Al Glick (longtime supporter of Michigan athletics and namesake for the Al Glick Field House). He's the owner of Alro Steel, knew him. So I gave him a call and said, "What's available?" He has a branch out in Wisconsin, so I started working there.
Q: What exactly are you doing?
JN: I'm the superintendent over there, in charge of operations, trucking, all that kind of stuff.
Q: Is that what you thought you might get into?
JN: Not at all. Not at all. I had no idea I would be in the steel business, but to be honest with ya it's a dream, it's challenging. I wouldn't trade it for anything. It's really worked out, and is a lot of fun.
Q: What else are you doing besides raising your kids and working there? Still watching much football?
JN: Yeah, yeah. I come back to one or two games every year. I'm not as involved as I used to be, but my time is so occupied by my kids and the business so just a couple games a year. I brought my little daughter to the spring game a few (months) ago, so trying to get them involved. So we'll see how it goes.
Michael Rothstein covers University of Michigan basketball for AnnArbor.com. He can be reached at (734) 623-2558, by e-mail at michaelrothstein@annarbor.com or follow along on Twitter @mikerothstein