Posted on
Tue, May 24, 2011 : 5:46 a.m.
Catching Up With ... former Michigan linebacker Jarrett Irons
By Michael Rothstein
Catching Up With ... is an occasional feature at AnnArbor.com where we chat with former Michigan athletes. If you have a suggestion for a future Catching Up With ..., email michaelrothstein@annarbor.com
Jarrett Irons missed a national championship at Michigan by a season, but he had one of the most dominant individual careers in school history.
Irons is Michigan's all-time leading tackler with 429 from 1993-96. And he did it with consistency, considering he doesn't have a single game that ranks in the top 20 all-time in tackles.
AnnArbor.com caught up with Irons, who is now living in Chicago, earlier this spring: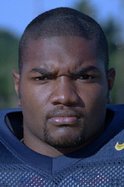 Q: What have you been up to the past few years?
Jarrett Irons: "Well, I live in Chicago. I work for a medical device company, (Smith & Nephew) knee and hip replacement. It's good. No complaints. I love Chicago."
Q: How'd you get involved with that?
JI: "I just was talking to different people and they said it was a good industry. It's been really good for me. I have 200 people that work for me and it's grown tremendously."
Q: What's your role?
JI: "I run a distributorship, so it's great."
Q: Did you ever think you'd get involved with that?
JI: "No, ever. I'm like 'What?' But in surgery every day they are using my implants and my instruments. For me, it's been fun because it's the constant knowledge base that you have to have and you have to be technical. It changes all the time, is up-and-down. It reminds me a lot of sports. So for me, I love it. It keeps me current and on top of my toes, you know."
Q: Did you know anything about medical devices?
JI: "No, I didn't, had to train. But it's been fun. I've been doing it long enough now where it's second nature. I've been doing medical device nine years now, the knee and hip for six."
Q: The first time you went into surgery, what was it like?
JI: "It was interesting. I was like amazed how this goes on. It's very fun. I enjoy it. My life is good, I have no complaints."
Q: Besides the job, what else is going on?
JI: "Not much. I work out in Chicago, have a lot of friends, hang out all the time. There's a lot of Michigan alums who live in Chicago so we all get together, old teammates of mine that were playing when I was there so we all get together."
Q: When you look at Brady (Hoke), are you pretty pumped by that move?
JI: "Very. I've known Brady for a long time and the guy has an enthusiasm and a love for this program and the game that translates very well to the kids, you know. He's just got a contagious personality that you want to be around it. It's going to be really good for these guys coming in and it's going to help for recruiting, but he's a good X's and O's guy. He's passionate but he's one of those guys who will tell you how he feels. He's straight up. He's not going to try and mess around and tell you something that's not the truth. He's not going to try and play mind games with you. He's going to try and get the best out of those guys. He's not going to ask you to do anything that he wouldn't do himself. So from that standpoint I think it's going to be really good for these guys."
Michael Rothstein covers Michigan for AnnArbor.com. He can be reached at (734) 623-2558, by email at michaelrothstein@annarbor.com or follow along on Twitter @mikerothstein.