Posted on
Tue, May 17, 2011 : 5:58 a.m.
Catching Up With ... former Michigan punter and current New England Patriot Zoltan Mesko
By Michael Rothstein
Catching Up With ... is an occasional feature at AnnArbor.com where we catch up with former Michigan athletes. If you have a suggestion for a future Catching Up With ..., email michaelrothstein@annarbor.com
Zoltan Mesko left Ann Arbor last year a cult hero and perhaps one of the most popular players in Michigan football history.
The Mesko lovefest followed him to New England, where the Wall Street Journal named him the NFL's "Most Interesting Man." Mesko became a fast fan favorite and also set a NFL rookie record for net punting average at 38.4 yards a punt. He punted 58 times as a rookie for 2,505 yards, a 43.2-yard average.
In the off-season and with the NFL players locked out, he also took time to start his post-football career, interning with Graham Partners in Philadelphia. AnnArbor.com caught up with Mesko, who is also on Twitter @ZoltanMesko, to find out what he's been up to.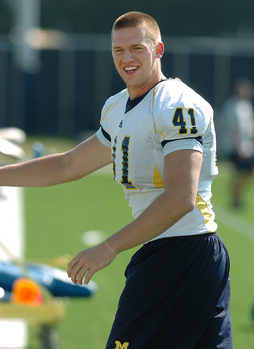 File photo
Q: What have you been up to during the lockout? I know you were interning. Zoltan Mesko: "Yeah, yeah. I have another couple of weeks of that internship, and I just wanted to get a good Plan B going down the line. As far as the lockout goes, I'm pretty sure there will be a season. No one wants to lose out on a lot of revenue and income on both sides. I'm sure it'll get settled down the line. We're just staying prepared and getting our work done as far as workouts and keeping our bodies intact. A lot of teams have organized individual workouts."
Q: How do you feel like your rookie year went? ZM: "Yeah, I thought it was a great experience. It was definitely a rollercoaster ride for me, but at the end I was very relieved I got through it and took lessons from it and apply it to the next year. I'm really looking forward to taking the lessons that I learned and applying those and having a good second year."
Q: Was it pretty much what you thought it would be? ZM: "It's definitely not college football, not Michigan at all. Because it is a business, and you see every intricacy of it come forth in everything you deal with, guys holding out, renegotiating their contracts. But that's why I appreciate Michigan that much more because it is such a team-oriented sport at the college level."
Q: What stood out the most? ZM: "Just the camaraderie and the pride you have at the college level versus the NFL level. A lot of guys don't buy into the team concept, maybe, it's more about feeding your family, that's what it comes down to. At the same time there are little, minute instances where you forget you're playing for money and you're having fun and you're winning. That's what I like about it, those little windows throughout the experience."
Q: What was the most exciting thing for you this year? ZM: "Just being able to adapt to new coaches and new ways of coaching and kind of earning the trust of my teammates. When I was a senior at Michigan, that was already done so I could worry just about performing. Now, I have to do both but one earns the other one, performance earns trust and respect on the team. I guess I was feeling I had to do both at the same time."
Q: With the internship, what did you pick up from that? ZM: "I was a finance and marketing major and always wanted to get my toes wet in that industry and see where I wanted to fall into once football was done for me. Private equity is definitely really interesting as far as me as an analyst. I wasn't doing the most meaningful work but I was traveling and meeting with management of different sorts of companies. It was really cool to really break down businesses and get into the research of where their industry is going and all sorts of things related to that."
Michael Rothstein covers University of Michigan basketball for AnnArbor.com. He can be reached at (734) 623-2558, by email at michaelrothstein@annarbor.com or follow along on Twitter @mikerothstein