Posted on
Tue, Jun 7, 2011 : 5:57 a.m.
Catching Up With ... former Michigan running back Anthony Thomas
By Michael Rothstein
Catching Up With ... is an occasional feature at AnnArbor.com where we chat with former Michigan athletes. If you have a suggestion for a future Catching Up With ..., email michaelrothstein@annarbor.com
When Anthony Thomas left Michigan in 2000, he was the Wolverines' all-time leading rusher and considered one of the best backs in Michigan football history.
His record of 4,472 yards was eventually broken by Mike Hart, but Thomas was good enough to be drafted in the second round of the 2001 NFL Draft by the Chicago Bears, where he played from 2001-04. He also spent time in Dallas, New Orleans and Buffalo before retiring.
Now, he's living in Missouri City, Texas, and living a fairly quiet retired NFL life. AnnArbor.com caught up with Thomas at this weekend's Michigan From The Heart charity golf tournament in Ann Arbor.
Q: Since you retired from the NFL, what have you been up to?
Anthony Thomas: "I'm a stay-at-home dad. I've got 5-year-old twin boys that keep me running. I play with them all the time. They keep me busy and on my toes. Getting up early in the morning, school buses, driving to school every morning, that kind of stuff."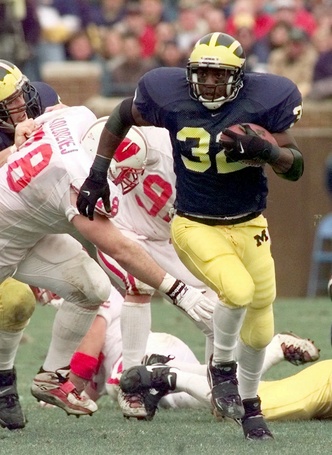 AnnArbor.com file photo
Q: Do you not want to work or is it something where you made enough money you can just hang out and play golf?
AT: "Nah. I've got a lot of injuries I need to heal from, a bad back, bad knees. I'm just trying to heal and get in that process. Eventually I do want to get into coaching, but the process right now is just trying to heal myself right now."
Q: Are these all injuries from when you were playing?
AT: "Yeah. Yeah. Wear and tear on the body from playing so long is all it is."
Q: When did you start feeling that?
AT: "(Laughs). When you don't start to feel it, that's the problem. It's a day-to-day thing. One day it's one thing. One day it's another."
Q: How bad is it right now?
AT: "Right now it's not as bad as it was when I first got out. Now I'm in the healing process and know how to take care of my body, kind of relax a little bit more, not be so rough on the body."
Q: Were you having surgeries?
AT: "They wanted me to have back surgeries. But the thing is, they are having so many problems with the surgeries they are doing now. So I figure in a couple of years they will come out with something different, something newer, inventing new stuff. So I'm holding out as much as I can."
Q: So what, exactly, is wrong?
AT: "A couple spinal things with my back and a couple vertebrae out of place. It's touch-and-go."
Q: So when you see what the NFL is doing now, fighting for pensions during this lockout, do you wonder where it was when you were playing?
AT: "Oh, it's part of it. It's something we've always talked about, even when we played, something that you always try to talk about. You talk and think about the things you're going to do after you play."
Q: You talk about coaching. What level are you thinking?
AT: "I coach 5-year-old T-ball, 5-year-old basketball. I'm having fun at that age and it's something that, I don't know what level I want to do. It's so competitive to just get 5-year-olds to stay still in the field and stop playing with the butterflies and that the bee is going to sting you, that sort of stuff. That's what I worry about right now."
Q: Would you always want to stay at that level or move up as your kids grow up?
AT: "Just with my kids growing up. Something to keep me active, keep me motivated, keep me moving around. It's fun."
Q: When you look at what Michigan has done, what do you think of them now and where they are going and maybe were the past few years?
AT: "The past couple years they were trying to rebuild and get something different from a different coach. Now, I think they have to rebuild again with a new coach. But I think Brady Hoke is the man for the job. He'll do a good job turning things around and getting things on the right path."
Q: Did you deal with him much when he was here? Do you remember a lot about him?
AT: "Yeah, I remember him in '97 when he was here and he's a good guy. He's a cool guy. I hung out with him a lot when I played in the league. Even at the golf outing last time, we'd always hang out. He's a great coach."
Q: Would you say you are friends with him or did that manifest from when he was your coach or something different?
AT: "It manifested when he was our coach. He was the defensive line coach in '97 and it's something that he's that kind of guy you stick with, you call and check on and see how everything is going. When we see each other we'd catch up with the family and see how everything is going. He's just one of those kinds of guys."
Q: So what's the best part of being a stay-at-home dad?
AT: "It's got so many perks. I love washing dishes, making beds, making lunches, carpooling, I love all that stuff. That's the great stuff about it."
Q: Did you ever think you'd be doing that when you were in the league?
AT: "I never thought I would be doing that kind of stuff. I heard people talk about things that they'd do on a day-to-day, wash enough clothes. I have twins so I wash a ton of clothes, a ton of dishes every day. It's busy."
Michael Rothstein covers Michigan sports for AnnArbor.com. He can be reached at (734) 623-2558, by email at michaelrothstein@annarbor.com or follow along on Twitter @mikerothstein.