Posted on
Sat, Sep 24, 2011 : 5:45 p.m.
Challenged for most of the season, the Michigan defensive line breaks through with best effort
By Nick Baumgardner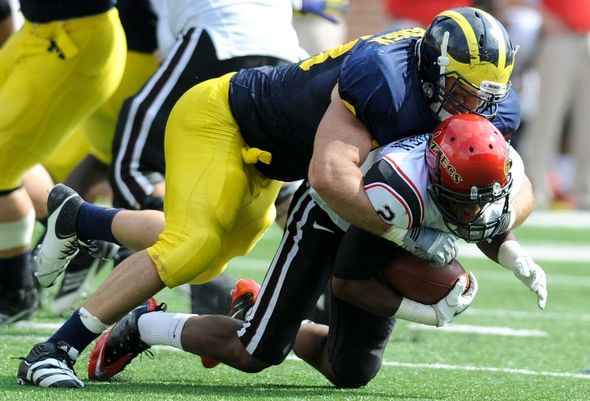 Angela J. Cesere | AnnArbor.com
Michigan football
coach
Brady Hoke
speaks endlessly about wanting to "feel" his defensive line's impact throughout the course of a game.
Hoke felt his front four more Saturday.
And so did San Diego State quarterback Ryan Lindley, the Aztecs' offensive line, running back Ronnie Hillman and basically any of the 110,000-plus that were paying attention inside Michigan Stadium.
"Coach Hoke holds us to a very high standard," senior defensive lineman Ryan Van Bergen said following Michigan's 28-7 win over San Diego State. "He's going to have the highest standard of any defensive line in the country. We definitely don't want him to lower that bar for us."
Earlier in the week, Hoke was asked if there was one position group he'd like to see improve more than any other. His answer was the team's front seven.
A defensive line coach by trade, Hoke has been specifically tough on his front four through the season's first month. Against Western Michigan and Notre Dame, the Wolverines had to rely on various blitz packages from defensive coordinator Greg Mattison to apply pressure.
A week ago against Eastern Michigan, the defensive front was pushed around for most of the first quarter before finally settling in and holding its ground.
Saturday, the only people being pushed around up front were players wearing white jerseys and red helmets.
"I thought they were disruptive," Hoke said. "The backers were able to flow pretty decently, there was some pressure on the quarterback and (the defense against) the transition from run to pass was pretty decent.
"Mike (Martin) and Ryan did a nice job, and Craig Roh (was another) you could feel out there."
The front four's impact on the game started early, and continued throughout the day.
During San Diego State's first possession, Roh burst through the line on a 3rd-and-1 to stuff Hillman in the backfield for a one-yard loss. Following a punt, Michigan needed six plays to find the end zone for its first opening-quarter points of the year.
Michigan continued to get pressure without blitzing throughout the first quarter, as Martin drew a holding penalty on SDSU's second drive before Van Bergen deflected a pass later that eventually led to a three-and-out.
Van Bergen made perhaps the play of the day midway through the third quarter. With Michigan up 21-0 and San Diego State driving, the 288-pound defensive tackle chased down a streaking Hillman from behind, forcing a fumble inside the Wolverines' 10-yard line.
"I just took off on my horse," Van Bergen said. "I was thinking 'I've almost caught (Michigan quarterback Denard Robinson) before, maybe I can catch this guy.'"
The play prevented a score, and marked the second-straight series that the Michigan defense was able to thwart the Aztecs following a Wolverine turnover.
Following that, Roh was able to put the icing on the victory cake late in the fourth, breaking through on the edge with a sack/forced fumble on Lindley. Michigan recovered deep inside its own territory with five minutes to play, basically ending any further threat the Aztecs may have had.
"They were in a hurry-up, and I just bull-rushed and ripped outside," Roh said. "I got to the ball, and it was a good feeling."
On the day, the Michigan defensive line totaled nine tackles, one sack, three tackles for loss, two forced fumbles and a pass breakup. In addition, the constant collapsing of the pocket forced Lindley into a rather poor day through the air. The SDSU senior finished the game 23 of 48 for 253 yards and a touchdown, but nine of those completions (and 91 of those yards) came in the game's final six minutes.
"Whenever a quarterback doesn't throw it very well, a lot of it has to do with pressure," SDSU coach Rocky Long said. "It seemed like he was under pressure quite a bit today."
It was hardly a bad day's work for a group that's been questioned for most of the season. The pressure to perform up front defensively won't go anywhere for Michigan's front four, but they seem fine with that.
They know they're head coach has a reputation with defensive line play, and for arguably the first time all season, the group showed signs of living up to it.
"We take (criticism) personal every week," Roh said. "I think today was a pretty good performance, but we need to keep improving.
"We're not where we need to be yet."
Nick Baumgardner covers Michigan sports for AnnArbor.com. He can be reached at 734-623-2514, by email at nickbaumgardner@annarbor.com and followed on Twitter @nickbaumgardner.