Posted on
Tue, Jan 12, 2010 : 10:58 a.m.
Charles Woodson wins NFL Defensive Player of the Year award
By AnnArbor.com Staff
NEW YORK — In his own view, Charles Woodson put together his best pro season in 2009. How appropriate, then, that he is The Associated Press 2009 NFL Defensive Player of the Year.
The versatile Woodson, a Michigan alum, tied for the league lead with nine interceptions, returning three for touchdowns, and was a key to the Packers' turnaround on defense.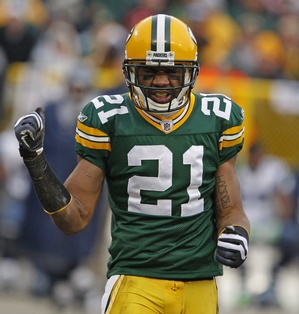 AP photo
His role in Green Bay's ranking second in overall defense, first in interceptions (30), takeaways (40) and turnover margin (plus-24) earned Woodson 28 votes Tuesday from a nationwide panel of 50 sports writers and broadcasters who cover the NFL.
"Yeah, it's the best," Woodson said of his performance this season. "There's no question about it. I was hesitant to say it early on this year; just consistent play, playing at a high level every week, turnovers, playing multiple positions and playing them well. Combine that with just going out there and having fun, and this is definitely the best."
He doubled the number of votes for New York Jets cornerback Darrelle Revis in becoming the first Green Bay winner since Reggie White in 1998 and just the second Packer in the 36-year history of the award.
In November, Woodson announced a $2 million donation to the C.S. Mott Children's Hospital in Ann Arbor.
Woodson, the 1997 Heisman Trophy recipient, is the first cornerback chosen top defensive player since Deion Sanders in 1994.
He got the honor in great part because of the way he anchored a defense in transition. Woodson was used in a variety of ways by new defensive coordinator Dom Capers as Green Bay made the switch to a 3-4. At times, the unit was shaky — except for Woodson, who played the role of cover cornerback, blitzer, run-stuffer and ballhawk.
"Any time you go out there on the field, you go out there to win the game, of course," Woodson said, "but you go out there to be consistent and a reliable player. And that's what that award is. You go out there, you can make plays and can continue to make them through the season and you're mentioned as far as being Defensive Player of the Year, you know you're doing some things right."
The Packers went 11-5 during the season, including taking seven of eight games in the second half of the schedule to secure an NFC wild-card berth. In that span, Green Bay allowed 15.6 points per game. Take away a last-second 37-36 loss to Pittsburgh, and the number becomes a minuscule 11.4.
Woodson had 63 unassisted tackles and 18 assists, according to the Packers, plus 21 passes defensed, four forced fumbles and one recovery, two sacks for 18 yards and three quarterback hits.
"I've said it before, he's had two or three games that I can't imagine any defensive player in the league having better games," said Capers, who also coached Rod Woodson (1993) and Jason Taylor (2006) when they won the award. "I think it speaks volumes when he was player of the month in September and came back and got player of the month again (in November)."