Posted on
Thu, Oct 27, 2011 : 2:43 p.m.
Brady Hoke expects Purdue to attack Michigan's weak perimeter defense
By Kyle Meinke
The Michigan football team has a weakness. Purdue has a strength.
The Boilermakers' strength can exploit the Wolverines' weakness.
In other words, it's not hard for Michigan coach Brady Hoke to project what Purdue will try to do when the teams meet at noon Saturday on ESPN2.
"Well, I would attack our (defense's) perimeter," he said Wednesday before practice. "The stretch play they run, and all those things, are ready-made for it."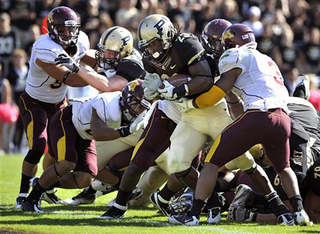 Associated Press
Michigan's defense has improved remarkably this year, but its biggest weakness in recent weeks has been its incapacity to contain outside runs. Northwestern exploited the perimeter for a half two games ago, then the Wolverines seemingly clamped down on the problem.
But Michigan State showed that fix was only temporary when it handed the 17th-ranked Wolverines (6-1, 2-1) their only loss of the year.
The Spartans rushed for 213 yards against Michigan, with much of that coming on runs that tailback Edwin Baker bounced outside. The Wolverines did not hold containment well, nor did they adjust.
Defensive coordinator Greg Mattison said the biggest reason the Wolverines are struggling on the perimeter is defenders are not fighting off blocks by receivers.
"We've got to be a lot more physical on blocks," he said. "It has got to be the mind-set, when a wide receiver tries to block you, that's an insult.
"There have been too many times where we're just kind of caught on it and pull off it, rather than attacking it and going through it."
Fighting through blocks has been an issue across the defense. Senior defensive tackle Mike Martin said that, along with tackling, has been the biggest point of emphasis the past two weeks.
"Coach, if he catches a guy not running through (a block), he'll rip him," Martin said.
The linebackers also shoulder some of the blame for the leaky run defense. They have struggled with hesitancy issues, and also have taken some bad routes to ball carriers.
What do the linebackers need to work on to shore up this problem?
"I think the initial reaction, the play recognition, the aiming points when you're going downhill," Hoke said. "Playing with the speed that you need to play with. If you're hesitant at all, that half a step that you're behind can cost you as a defense."
That starts Saturday.
Purdue is running the ball well. It is ranked 27th nationally in rushing offense (195.1 yards per game) and fourth in the Big Ten, just behind Michigan. A lot of that production has come on runs outside the tackles.
How much do the Boilermakers rely on the run? They are 9-1 under coach Danny Hope when rushing for more than 200 yards (which Michigan has allowed its past two games). They are 4-17 when they don't.
Hoke said Purdue's offense is comparable to what Michigan State runs.
"Similar, not quite the same," Hoke said. "They throw the bubble. They throw the rocket. They run the outside zone, the stretch play. Yeah, that's where I would start (if I were facing us)."
Running backs Ralph Bolden (398 yards) and Akeem Shavers (325) lead with way for Purdue, and speedy Akeem Hunt (141) also will get time. Starting quarterback Caleb TerBush (142 yards) also rushes a little bit.
Purdue also deploys some Wildcat sets with receiver Justin Siller at quarterback. They could use those formations to stretch the Michigan defense and attack the perimeter.
Martin is familiar with Siller, as they both played high school football in the Detroit area. Siller was a full-time quarterback then.
Martin remembers two things well about him: First, Siller is really fast. Second, how good it felt to blast him for a 9-yard sack on a big-time hit.
"You never forget those, man," Martin said. "I still got pictures on my Facebook, I think."
Kyle Meinke covers Michigan football for AnnArbor.com. He can be reached at 734-623-2588, by email at kylemeinke@annarbor.com and followed on Twitter @kmeinke.