Posted on
Mon, Nov 21, 2011 : 7:57 p.m.
Coach Brady Hoke gets the headlines, but seniors hold key for Michigan football team against Ohio State
By Kyle Meinke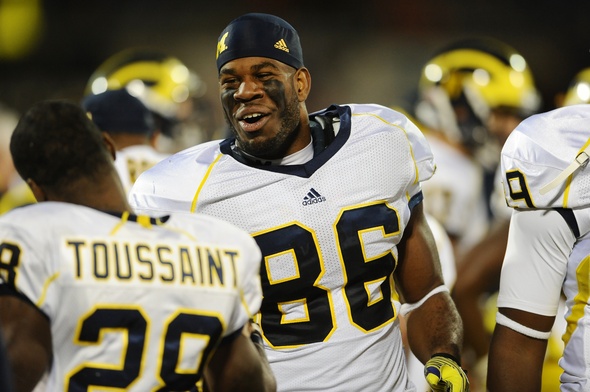 The Michigan football team has won nine games, with another to play. A successful first season for coach Brady Hoke, right?
The catch, of course, is that one game happens to be The Game against Ohio State, which has beaten the Wolverines each of the past seven years. Michigan has been outscored 218-108 in that span, including 37-7 last year.
The Wolverines also already lost to their second-biggest rival, Michigan State, and have no shot at a Big Ten title, which had been Hoke's top goal.
Oh, and there's that BCS at-large bid hanging in the air.
So, there's a lot more than bragging rights riding on this game.
"I think a lot of people would have anticipated that, if we were to win nine games this year, that we would be a satisfied group of guys, we would be excited and probably would have exceeded all expectations," senior defensive lineman Ryan Van Bergen said. "But, that's not the attitude around the football facilities.
"We think there's more we could do, should have done. I think that's why we've been so focused. No one has been satisfied with what we've done so far."
Hoke said his team will have to manage those pressures, which will create a frenzied atmosphere Saturday at Michigan Stadium (noon, ABC).
"Some of (the players) probably are putting a little too much on themselves than they need to," Hoke said. "All you have to do is go out there and play for the guy next to you and play as hard as you can, with the greatest toughness you have, and let it go.
"That's what makes the whole week exciting, and makes it fun. You know at kickoff, there will be two teams on that field playing for the pride of their schools, and of those programs and what it stands for. To me, that's what makes it the greatest rivalry."
This game has become a lot about Hoke, a lifelong Michigan fan despite being an Ohio native whose father played for former Buckeyes coach Woody Hayes. He pointed to this game when he was hired in January, and has broken every team meeting this year with "Beat Ohio."
For that to happen, though, Hoke said the onus rests not on him, but the play and leadership of his seniors, who are winless against the Buckeyes.
In fact, they've never had a lead against the Buckeyes.
"This senior class has been through an awful lot," Hoke said. "Three head coaches, three assistant coaches, as far as positionally, some of them four. The credit goes to them and how they have responded and how they've led."
Senior tight Kevin Koger, a native of Toledo, Ohio, said the seven-game losing streak -- and his personal three-gamer -- is weighing on him as his Michigan career draws to a close.
"We're definitely motivated," said Koger, one of three team captains. "We want to beat these guys every time we play them, but (the losing streak) weighs a little heavy on you, knowing we haven't beat them in a long time."
The closest any of the seniors have come to beating Ohio State came in 2009. Even then, the Wolverines never led, trailed 14-3 by halftime and were beaten 21-10.
Last year, they lost by 30 points.
Michigan hasn't had a lead in the series since opening the 2007 game with a field goal. It didn't score again in a 14-3 loss.
Its last win against Ohio State came in 2003, when seniors such as Van Bergen were in eighth grade.
He's excited to play his Michigan Stadium finale with a chance to change that.
"So much emotion goes into this game, especially as a senior," Van Bergen said. "This is my last time I'll ever play in front of 113,000 people, and I know that for a fact."
Koger said he made a bet with senior receiver Junior Hemingway as to which player will cry first when they walk through the tunnel for the last time.
"It's going to be emotional, but it's our time to go," Koger said. "I think I'm going to hold out a little bit longer than Junior is, but not by much. Not by much."
Senior center David Molk -- the guy known for his tough exterior, and penchant for head-butting freshmen before games -- is not included in that bet.
"He's going to be laughing at the guys crying," Koger said. "That's the type of guy Molk is."
Kyle Meinke covers Michigan football for AnnArbor.com. He can be reached at 734-623-2588, by email at kylemeinke@annarbor.com and followed on Twitter @kmeinke.