Posted on
Tue, Nov 1, 2011 : 1:54 p.m.
Brady Hoke: Next step for Michigan football team is showing it can win on the road
By Kyle Meinke
Associated Press
The Michigan football team is 7-1 and in a three-way tie atop the Legends Division race as the final month of the regular-season season kicks off.
But the No. 13 Wolverines are 1-1 away from Michigan Stadium, have played only one half of good football on the road and must become more consistent in hostile environments if they are to maintain pace with Michigan State and Nebraska in the division race.
Coach Brady Hoke said this is an important step in building a football program.
"I think it, obviously, is an important part — going into hostile environments to see what kind of poise and composure your team plays with," Hoke said Tuesday during his weekly teleconference with reporters. "In this league, you're going to get punched in the mouth, and you better be able to punch back."
No. 13 Michigan will play its next two on the road, beginning Saturday against Iowa (Noon, ESPN). The Wolverines lost, 30-28, in their last game at Kinnick Stadium and haven't won there since 2005.
Iowa (5-3, 2-2) is unbeaten this year in five games at home, but is winless on the road.
"I'm not as much into the road-home conspiracy as much as some people," Hawkeyes coach Kirk Ferentz said. "To me, it's about playing well and not playing well. We haven't played well enough to win in our three road losses. In five wins, we've played well enough to win."
Making matters more difficult, Big Ten teams have struggled on the road this year. Visiting teams are 8-18 in league games, and three of those wins came against winless Indiana (1-8 overall). None of them came against a team with a winning conference record.
Hoke said for his team to be successful in Iowa City — and Michigan will travel to Illinois the following week — it needs to tighten up several flaws that were revealed in last week's 36-14 win against Purdue.
"We had way too many mistakes," he said. "We had two interceptions, and we can't give the ball back to the opposing team. We didn't get into the end zone at the end of the first half (when Michigan kicked a field goal instead).
"Defensively, we gave up the big play, (which) you can't do in Big Ten play. I just didn't think we played as crisp as we need to as a football team. This is going to be a tough test for us, going into Iowa City.
"We have a lot of work to do this week."
Other notes from Hoke's teleconference:
Kovacs 'going to be fine'
Junior safety Jordan Kovacs, who missed the Purdue game with a knee injury, ran on Sunday and is "going to be fine," Hoke said.
Hoke did not indicate whether Kovacs would play against Iowa.
Toussaint takes heat off Robinson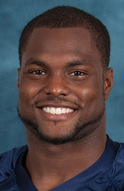 Hoke said he was pleased with the performance of sophomore tailback
Fitz Toussaint
not only because of the production (20 carries for 170 yards and two touchdowns), but also because it took pressure off quarterback
Denard Robinson.
"It takes some relief off our quarterback, and that's always been a part of where we wanted to get to," Hoke said. "A lot of credit goes to our receivers and the guys blocking up front."
On Monday, Hoke said Toussaint has earned the team's lead tailback job.
Hoke impressed by Iowa QB
Hoke said Iowa junior quarterback James Vandenberg has been impressive this year, despite being in his first full year of starting.
"He throws a great ball, touch ball, the long ball, the intermediate routes awfully well, the check-downs," Hoke said. "He has shown great poise, and I think he's a tremendous quarterback."
Vandenberg, a 6-foot-3 junior from Keokuk, Iowa, is 140-of-225 passing (62.2 percent) for 17 touchdowns and four interceptions.
Etc.
Hoke said he was never worried about his job security as he was trying to turn around Ball State, despite the early losing seasons.
"Never thought about it, and I don't think about that part of it," Hoke said.
Kyle Meinke covers Michigan football for AnnArbor.com. He can be reached at 734-623-2588, by email at kylemeinke@annarbor.com and followed on Twitter @kmeinke.