Posted on
Thu, Jul 12, 2012 : 4:25 p.m.
College football playoff eventually will expand beyond 4 teams, ex-Michigan coach Lloyd Carr says
By Kyle Meinke
Former Michigan football coach Lloyd Carr led the Wolverines to a national championship in 1997, the program's only title since 1948.
Of course, there was a catch: He had to split it with Nebraska, which was ranked No. 1 in the coaches' poll. The Wolverines were atop the Associated Press poll.
College football has reformed its postseason this summer, officially ditching the BCS in favor of a four-team playoff starting in 2014, but the change comes too late to help Carr, who retired after the 2007 season.
He says its a positive move for the game, though, and predicts the playoff field will eventually expand beyond the four-team format that is being implemented.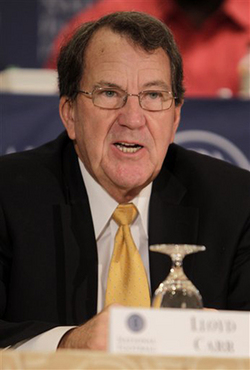 Carr compared it to the NCAA men's basketball tournament, which has expanded from 32 to 68 teams over the years.
"I do think (with) the fans, the message is that there was a lot of discontent with the BCS, and I think purely from a football standpoint, this is going to be an exciting new era -- and I think it'll be really exciting for the fans and the players," Carr said this week in an interview with SiriusXM Sports.
"The other side of it is it'll take 15 games to win the national championship, or to be the runner-up. Going back a number of years, back into the '60s when I played, we played nine games, plus a bowl game, and there weren't that many of them.
"We're down that road now, and I think in the future there's going to continue to be pressure, just like there was in basketball, to continue to raise the number of teams. But I don't have that answer."
Carr later discussed in the interview his upcoming College Football Hall of Fame ceremonies, which take place July 21 in South Bend, Ind. Check out the full audio interview here.
Kyle Meinke covers Michigan football for AnnArbor.com. He can be reached at 734-623-2588, by email at kylemeinke@annarbor.com and followed on Twitter @kmeinke.