Posted on
Wed, Sep 1, 2010 : 5 p.m.
Quarterback Zach Frazer took the long road to be Connecticut's leader
By Michael Rothstein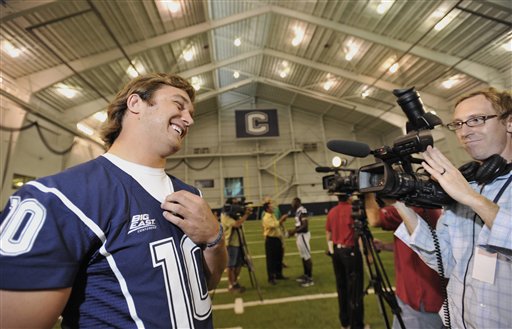 Associated Press
Zach Frazer never imagined it would take a transfer and five seasons before he played at Michigan Stadium. On Saturday, the Connecticut quarterback plans to look around and capture a few memories.
"I'll be enjoying everything," Frazer said. "Just the general scene and everything, if they are booing us or whatever, I don't care. It's going to be great to get into that stadium and be a part of that.
"It is something I'm going to remember the rest of my life."
Football has been full of twists for the Mechanicsburg, Pa., native.
He visited Michigan in 2005 when he was a highly touted recruit out of Pennsylvania and Chad Henne was the Wolverines quarterback. Frazer chose to go to Notre Dame and redshirted his freshman year and then lost a four-way quarterback battle in the spring.
Seeing his chance to play vanish, found a new home with Connecticut, a developing program transitioning into the Big East as a BCS-eligible program.
"When Zach got in here, he was a great quarterback, but he seemed a little timid," fifth-year senior guard Zach Hurd said. "Now, after he got a bunch of game experience, and he's grown over the winter workouts and the summer.
"He's grown into a confident, poised quarterback we have confidence in for the season opener."
It wasn't always this way.
He first played a college game three years after he left high school when then-Connecticut starter Tyler Lorenzen broke his foot against Louisville in 2008. Frazer had a good start, showing the promise he displayed as a high school All-American, throwing his first touchdown pass and leading Connecticut to a come-from-behind victory.
But it got rougher after that as he finished the year with two touchdowns, six interceptions and a head injury that knocked him out midseason.
Last year, Frazer won the starting job but hurt his knee two weeks into the season. He returned to his starting role in November, with his team reeling from the death of teammate Jasper Howard and losses to West Virginia and Rutgers.
His team lost to Cincinnati that day, but the time off gave Frazer a chance to understand the game.
"I'm making quicker decisions," Frazer said. "I'm not forcing anything. I'm trying to limit turnovers and interceptions, and that just goes a long way to knowing where to go with the ball."
Two weeks after the Cincinnati game, having not won since Howard's death, Frazer went to the place he thought he'd spend his whole career - Notre Dame. And, in double overtime, Frazer won.
From there, Connecticut won four consecutive games.
As for the 22-year-old, 6-foot-4 senior, he finished the year 166-of-218 passing for 1,461 yards, 10 touchdowns and nine interceptions.
It also set up this season, a year where Frazer said he feels more comfortable with knowing there is nothing left to worry about except for, finally, football. And a year where Connecticut, which has never beaten Michigan coach Rich Rodriguez, is projected as one of the favorites in the Big East.
"I never think what-ifs, never think any of that," Frazer said. "I don't even think like that. Everything happens for a reason. I'm here now.
"I'm loving the situation and loving the opportunity that I've been given and the road and path I took to get here."
Michael Rothstein covers University of Michigan basketball for AnnArbor.com. He can be reached at (734) 623-2558, by e-mail at michaelrothstein@annarbor.com or follow along on Twitter @mikerothstein.