Posted on
Sun, Aug 7, 2011 : 9:51 p.m.
Darryl Stonum's redshirt season will hamper Michigan football team; suspensions will require adjustments, too
By Kyle Meinke
After unifying the Michigan football program and attracting the Big Ten's premier recruiting class this off-season, it seemed little could go wrong for new Wolverines coach Brady Hoke.
Until the day his team reported for fall camp.
Hoke announced three moves in a press release Sunday, a day before official practices begin:
Suspended senior receiver Darryl Stonum will redshirt this season. The starter had been suspended after he was arrested this summer and charged with operating while visibly impaired. He's on two years probation for the infraction.
Punter Will Hagerup was suspended four games for a violation of team rules.
Junior receiver Terrence Robinson was suspended for the season opener against Western Michigan on Sept. 3 for a violation of team rules.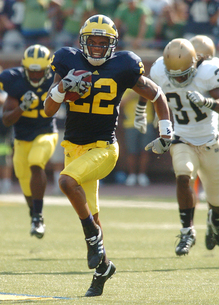 File photo
Stonum's arrest is his second since arriving in Ann Arbor. He received a drunken driving charge early in his Michigan career.
He also served three days in jail in 2010 for probation violations.
"While it would be great to have Darryl on the field this season, we feel it is in his best interest and the best interest of our program for him to redshirt," Hoke said in the statement. "Darryl will continue to be an important part of our team and family. He has done everything we have asked him to do, but our number one priority is to help Darryl grow as a person."
Of the three moves, Stonum's redshirt is the most significant blow to Michigan's chances this year. He is the Wolverines' second-best receiver, behind junior Roy Roundtree, and would have been a nice fit in the pro-style offense being implemented by Hoke and offensive coordinator Al Borges.
Stonum has 76 catches for 1,008 yards and six touchdowns in his career. He also has returned 62 kickoffs for an average of nearly 25 yards and one touchdown.
Roundtree, as well as seniors Junior Hemingway and Martavious Odoms, likely will be the starters. Each are proven wideouts and as a group should handle Stonum's loss capably.
Where Michigan will be hurt is in the depth of its receiving corps. Without Stonum, the Wolverines' backups are Kelvin Grady, Je'Ron Stokes, Jerald Robinson and Jeremy Jackson. Only Grady has much game experience.
Hoke said last month at the Big Ten media days in Chicago he has not yet determined who will be the primary kick returner. Stonum and Jeremy Gallon handled most of those duties last year.
Although Stonum's redshirt hurts Michigan's chances this season, it may help them next year. He could play the whole season — which certainly wouldn't have happened this year — and helps mitigate the loss of starters Hemingway and Odoms, who are seniors this year.
Hagerup, who was the team's top punter last year as a freshman, was suspended for an undisclosed violation of team rules. He will miss the entire nonconference season, and return for the Big Ten opener against Minnesota.
"In order to build a championship-caliber culture, you have to be accountable to each other on and off the field," Hoke said in the statement. "There are expectations at the University of Michigan you must live up to."
Hagerup also was suspended for the Ohio State game last year. Place-kicker Seth Broekhuizen replaced Hagerup for that game, but did not punt well, averaging 29 yards per attempt.
Broekhuizen is back as a sophomore this season, although incoming freshman place-kicker Matt Wile could be another option Michigan pursues in Hagerup's absence. Wile, a top-five kicker in the class of 2011, averaged 42 yards per punt in high school.
Robinson is a reserve receiver who was not expected to receive much playing time.
Kyle Meinke covers Michigan football for AnnArbor.com. He can be reached at 734-623-2588, by email at kylemeinke@annarbor.com and followed on Twitter @kmeinke.