eye on the wolverines:

Daunting opponent up next for Michigan defense, plus some insight into bowl situation

Posted on Sun, Nov 14, 2010 : 9:07 p.m.
WEST LAFAYETTE, Ind. - Inside a jubilant locker room Saturday, members of the Michigan football team hugged and high-fived and celebrated a defensive masterpiece against Purdue.
"The offense was patting our backs and thanking us," linebacker Kenny Demens said. "When we've been down in the dumps, our offense picked us up. So it's about time we can help out and get a win."
It was a performance that suggested all the re-tooling in the past month had worked, that through lineup changes and position switches coaches had solved some big pieces in the defensive puzzle.
What happens next may determine whether that's true - or whether Saturday was a one-game anomaly against the Big Ten's worst scoring offense.
Next weekend, Michigan (7-3 overall, 3-3 Big Ten), hosts a Wisconsin team that rolled up 83 points against Indiana on Saturday. The Badgers average 40.2 points per game this season.
They're a much more daunting offensive opponent, and probably a more accurate benchmark for Michigan's improvement.
That said, there was a lot to like about the defense against the Boilermakers.
Michigan succeeded without its two best defensive players, Jonas Mouton and Mike Martin, who were scratched from the lineup after pregame warmups.
Succeeded, really, without its three best players if you factor in the season-ending injury cornerback J.T. Floyd suffered earlier this year.
Without that trio, Michigan held an FBS opponent without a touchdown for the first time since Nov. 8, 2008 against Minnesota.
It wasn't only that the Wolverines soldiered on without Mouton, Martin and Floyd. It was the fact their performance was a true team effort.
Much-maligned Obi Ezeh, who lost his starting job at middle linebacker a month ago, shined on the outside Saturday, registering a team-high eight tackles, including two for loss, and a sack.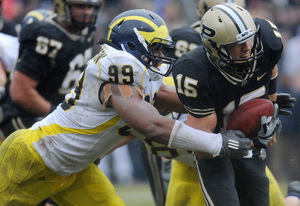 Carvin Johnson, recently moved to safety, had two tackles for loss. Senior cornerback James Rogers, the lone veteran in the secondary, recorded his first two interceptions of the year.
Cam Gordon, recently moved to safety, recovered two fumbles and returned one of them 58 yards for a touchdown - the team's first defensive score of the season.
Craig Roh looked much more aggressive at defensive end, and had a forced fumble and a tackle for loss.
"The move to at end is a move we probably should have made earlier," Michigan coach Rich Rodriguez said. "There is no question he is more comfortable there."
One other notable on defense: Mark Moundros filled in well for Mouton.
"He played really well," Demens said. "With Mouton out, people thought it was a big downfall for us, but it wasn't. He played really tough, and we just communicated out there."
Michigan's cohesive blend of unsung players contrasted with Purdue's defense.
No question, defensive end Ryan Kerrian was the best player on the field Saturday, and the best defensive player Michigan has faced all season.
He forced two fumbles and recorded four sacks, matching the number the Wolverines offensive line had allowed all season.
"He was an animal," sophomore quarterback Tate Forcier said.
But the one-man show couldn't do everything and couldn't stop Michigan when it mattered most.
With the game on the line, the Wolverines' offense patched together a methodical, clock-killing drive that culminated in a Stephen Hopkins TD that put the game away.
Bowl glance
Assuming the BCS picks two teams from the Big Ten, which seems likely with two weeks remaining in the regular season, all bets point toward Michigan heading to the Insight Bowl on Dec. 28.
ESPN's Andrea Adelson and Mark Schlabach, along with Rivals.com and CBSsports.com all project the Wolverines will play in Phoenix against either Missouri or Oklahoma.
Should the Wolverines upset Wisconsin or Ohio State in the final two games of the season, they could play their way into the Gator Bowl or - should Iowa keep fading - the Outback Bowl.
That'd be a best-case, though, unlikely scenario.