Posted on
Sat, Jul 14, 2012 : 11:40 a.m.
Dave Brandon: Dissolution of Big Ten-Pac-12 collaboration won't change Michigan's future schedule
By Nick Baumgardner
The Big Ten and the Pac-12 collaborative effort has collapsed.
But Michigan's relationship with the Pac-12 is far from over.
The leagues ended their pact before it ever really started. But the Michigan football program fully complied with the idea well before the 2017 mandate, scheduling games against Utah, Oregon State and Colorado.
Will Michigan go through with its Pac-12 commitments?
"Yes," Michigan athletic director Dave Brandon said in an email Friday. "(The contracts are signed) and we are pleased to have the games on our schedule."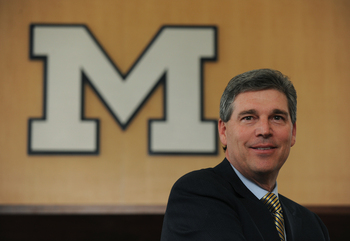 AnnArbor.com file photo
Michigan's home-and-home series with Utah, beginning in 2014, and it's one-game deals with Colorado (2016) and Oregon State (2015) were agreed upon under the umbrella of the Big Ten-Pac-12 pact. An arrangement that now seems well on its way to being extinct.
But even so, Brandon says Michigan intends to move forward with its current set of future dates, and also won't rule out other future Pac-12 opponents for both football or men's basketball.
Last month, Brandon seemed a bit concerned about the overall health of the now former Big Ten-Pac-12 agreement, saying the entire process seemed to be spinning its wheels.
On Friday, Big Ten commissioner Jim Delany said he was disappointed the idea couldn't be finalized -- a sentiment Brandon agreed with.
"It had some great potential," Brandon wrote. "However, if it doesn't work for both conferences, then it wasn't meant to be."
Nick Baumgardner covers Michigan sports for AnnArbor.com. He can be reached at 734-623-2514, by email at nickbaumgardner@annarbor.com and followed on Twitter @nickbaumgardner.