Posted on
Thu, Aug 23, 2012 : 12:30 p.m.
Dave Brandon explains 'family squabble' between marching band and Michigan athletic department
By Nick Baumgardner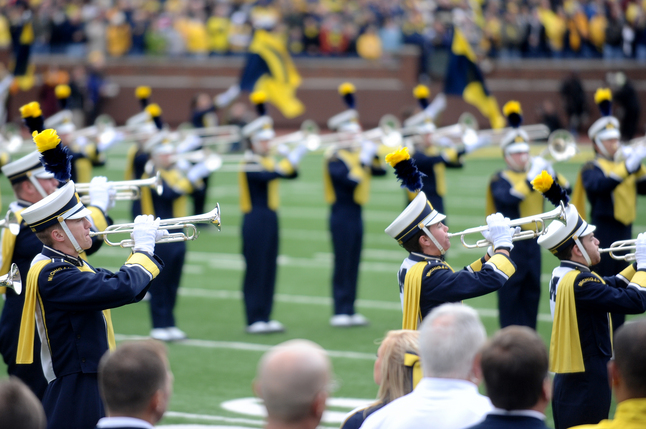 Melanie Maxwell | AnnArbor.com
Michigan athletic director
Dave Brandon
calls it a family squabble.
This past spring, the Michigan athletic department came under fire after it was revealed that the university's marching band would not be accompanying the Michigan football team to Texas for the season-opener against Alabama.
When asked Wednesday about the band situation during a speaking engagement with the Detroit Economic Club, Brandon explained exactly what happened.
"Every organization you're attached to has from time to time what I could characterize as a family squabble," Brandon said. "A disagreement, a misunderstanding. I bet you have that with your own family.
"But in your family, you can kind of work through your family problem without Twitter."
Brandon explained that the original plan was to have the marching band bus down to Arlington, Texas leading up to the Alabama game, playing various concerts along the way in front of alumni groups along the way.
At the time, Brandon said Michigan had budgeted roughly $100,000 for the band to bus to Texas, something he says he was in favor of doing.
Things changed, however.
"The band changed their mind," Brandon said. "They decided they didn't want to be in buses and they didn't want to play their way to Dallas and they came and said 'we're planning on coming to Dallas, everybody's planning on coming to Dallas, but we're not going to ride in buses we're going to fly in a jumbo jet and here's what it's going to cost.' "
Brandon then said that the cost to fly the band down to Texas would have cost roughly four times the amount of the number the athletic department had originally budgeted. And thus, he said no.
He's quick to point out, again, that Michigan's season-opener against Alabama is not a bowl game, it's a neutral site contest. And normally, the Wolverines do not bring their band on the road for regular-season games -- especially when the contest requires air travel.
But that notion didn't fly among fans, as many supporters -- and a few former players -- flocked to social media outlets to express their outrage at Michigan's perceived band snub.
After the fans had their say, and Brandon's email inbox exploded, he says he was able to rectify the issue by reaching out to donors for support.
Brandon said with the help of several donors, he was able to bring the athletic-department cost down from roughly $400,000 to $200,000 and was able to justify the task of chartering a plane for the band to fly to Texas.
"The band is coming to Dallas," he said. "And I hope you enjoy every note."
Nick Baumgardner covers Michigan sports for AnnArbor.com. He can be reached at 734-623-2514, by email at nickbaumgardner@annarbor.com and followed on Twitter @nickbaumgardner.