Posted on
Fri, Dec 2, 2011 : 2:23 p.m.
Dave Brandon: No plans to turn Michigan State, Ohio State games into nighttime contests
By Nick Baumgardner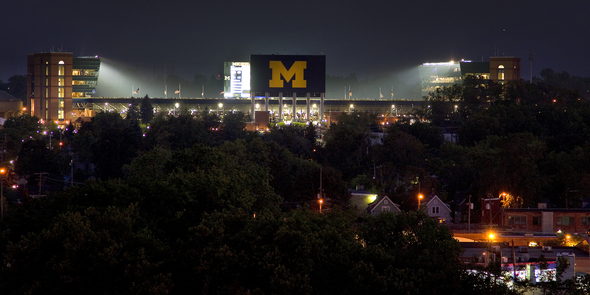 Steve Pepple | AnnArbor.com
The
Michigan football
team made history earlier this season when it hosted the first night game in
Michigan Stadium
history, a thrilling
35-31 win over Notre Dame.
At the time, Michigan athletic director Dave Brandon firmly maintained he would not schedule any future night games unless they were deemed as "special."
On his blog Friday, Brandon stood by his previous statement. Also, he shot down the notion that the Wolverines would host rivals Michigan State or Ohio State at night in the near future.
"If asked, the answer will be that Michigan regular-season home football games will always be played on Saturday and a night game will only be scheduled if it is a "special game" with significant fan interest," Brandon wrote. "We are not going to schedule a home night game just to play a night game.
"In addition, we have no plans to move Michigan State or Ohio State to a night game in Michigan Stadium."
The Wolverines will host Michigan State in 2012 (Oct. 20) and Ohio State in 2013 (Nov. 30).
Brandon did not specify whether any home night game was planned for next season.
In 2012, the Wolverines will host Air Force, Massachusetts, Illinois, Michigan State, Northwestern and Iowa. Michigan's season-opener against Alabama will be played at Cowboys Stadium in Arlington, Texas.
Brandon went on to explain how all night games are scheduled in advance of the season, and the decision to start Saturday games at noon or 3:30 p.m. are made by television networks, not him.
Michigan won't be hosting the Spartans or Buckeyes under the lights in the near future, and there's no word on when the next Michigan Stadium night game will be.
Brandon may still have a few surprises, though.
"Even though television determines our game start times," he wrote, "we will work hard to make them a 'wow' for our fans regardless of what time they begin!"
Nick Baumgardner covers Michigan sports for AnnArbor.com. He can be reached at 734-623-2514, by email at nickbaumgardner@annarbor.com and followed on Twitter @nickbaumgardner.