Posted on
Thu, Apr 26, 2012 : 5:59 a.m.
Dave Brandon puts Michigan's drug policy results 'up against anybody in the country'
By Nick Baumgardner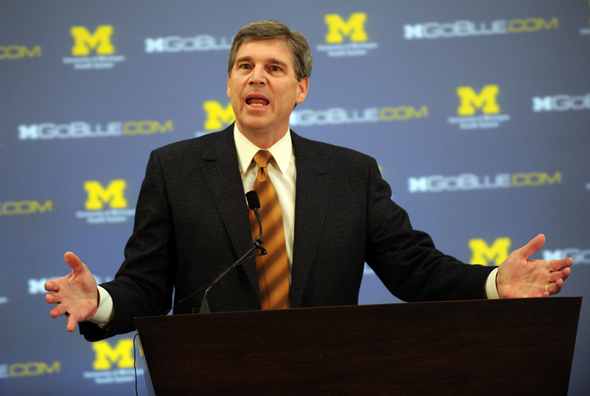 AnnArbor.com file photo
Michigan athletic director Dave Brandon's more aggressive drug testing policy was profiled recently in an "ESPN The Magazine" feature focused on excessive marijuana use in college athletics.
After taking over as athletic director in 2010, Brandon pushed for more frequent testing within the department, and stiffer penalties for those who failed to comply with regulations.
Two years later, Brandon says he's more than pleased with the results department-wide.
"I'm very, very proud of our student-athletes," Brandon told reporters earlier this week. "The last year, I would put our results up against anybody in the country. And we test for synthetic, as well as regular marijuana and the other drugs.
"Our student-athletes understand it's a value, and if they want to be here and participate, it's something they're going to have to live up to and they do."
Per the ESPN report, Michigan now suspends athletes for 10 percent of their team's season for a first positive drug test, 33 percent for the second and one year for the third.
Additionally, Brandon says Michigan isn't worried about limiting its drug testing policies, no matter what the cost might be.
"To me, drug testing is not something you worry about in the budget," he said. "You worry about making sure you're testing on a frequent enough basis so people know you mean what you say.
"If you don't test frequently, young people think they'll play Russian roulette and not get tested. Our comment to student-athletes was, 'If you do drugs, you're going to get caught.'"
Brandon said he really can't explain why marijuana usage has increased inside the realm of college athletics, nor why it continues to be a lingering issue for several programs across the country.
According to the NCAA's most recent drug-use survey (conducted in 2009), 22.6 percent of athletes admitted to using marijuana -- a 1.4 percent bump from a similar study performed in 2005.
As a result, Brandon said he implemented a re-education process with Michigan's student-athletes about the harmful effects of drug use -- both on and off the playing surface.
"We implemented a new policy and we made it really clear that one of our values of Michigan athletics is to be a drug-free athletic program," he said. "We're not going to put up with it. We think it's bad and we're going to do everything we know how to do to prevent it. And the thing we know how to do is to test incessantly."

Hoops transfers, early exits concerning

The number of transfers within Division I college basketball this season has been staggering. Various outlets have confirmed nearly 400 players across the country opting for a transfer this season.
Michigan was far from immune from the issue.
Three Wolverines -- Evan Smotrycz, Carlton Brundidge and Colton Christian -- elected to leave the Michigan program this offseason.
One more, Trey Burke, nearly left early for the NBA.
During a meeting with reporters earlier this week, Brandon touched on the ongoing concerns of growing college basketball attrition.
"I'm very concerned about the one-and-done, I don't like the two-and-done, I'm not even a big fan of the three-and-done," he said. "But basketball seems to be one of these sports right now where this feeding frenzy over talent by the NBA is putting a lot of pressure on really young kids.
"With short attention spans, you're seeing young people who say 'I didn't play as much this year as I thought, where can I go play?' and so you get the transfer thing going. Then you've got people going out early in the draft. It's not really what college athletics is supposed to be about."
Brandon didn't offer much of a solution for the transfer issue, but did say one way to possibly alleviate the rush of early-entry student-athletes would be the reinstitution of freshmen ineligibility.
Though, he admitted, that's not exactly a viable option.
Could the NBA step in and offer a solution? Again, probably not viable
"People ask me all the time if there's a way to do a deal with the NBA," he said. "And I think that's difficult, because they have a commercial interest with these young players. And it's difficult at times for these institutions of higher learning to try and stand between professional owners with a commercial interest and young people who have a chance to make a lot of money.
"It's a difficult problem."
Nick Baumgardner covers Michigan sports for AnnArbor.com. He can be reached at 734-623-2514, by email at nickbaumgardner@annarbor.com and followed on Twitter @nickbaumgardner.