Posted on
Thu, Jun 28, 2012 : 5:59 a.m.
Dave Brandon says Brady Hoke loves the idea of opening 2015 season on Thursday night
By Nick Baumgardner
Story has been corrected with proper time zone information.
For the first time in Michigan football history, the Wolverines will kick off a game on a Thursday night.
Michigan will open the 2015 season at Utah on Thursday, Sept. 3 -- something that's uncharted territory for the program and its fans, but perhaps the team's most important person is a big, big fan of the concept.
That person? Brady Hoke, of course.
"He loved it," Michigan athletic director Dave Brandon told AnnArbor.com on Wednesday. "The game is before school starts, it's got zero impact on classroom activities and it gives us a couple extra days to prepare for our second game.
"The coaching staff was very much in favor of it."
Hoke's no stranger to season-opening Thursday night games, either.
During his six-year tenure at Ball State, Hoke and the Cardinals opened up the season on a Thursday five times. Ball State went 3-2 during those games.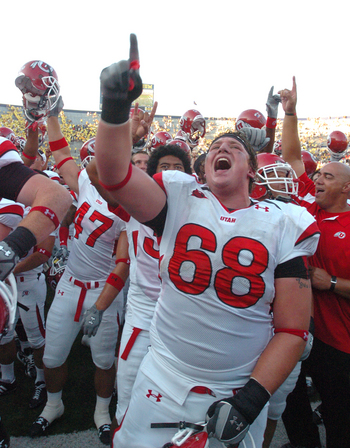 AnnArbor.com file photo
Michigan announced a home-and-home series with Utah -- part of a Big Ten-Pac-12 scheduling alliance -- on Wednesday. The Utes will visit Michigan Stadium in 2014.
Brandon said Utah approached Michigan with the idea of opening 2015 on a Thursday night. Because it will be the first college football game played that season, it was a unique opportunity he said he couldn't pass up.
"Utah had the date and Utah offered it up," Brandon said. "It's the first football game of the 2015 season, and that opening Thursday night gets a huge national viewing audience.
"It was a big-stage opportunity for our program."
Brandon said the fact that the Thursday start is on the road, in Utah, means it won't be an issue for Wolverines fans who would have to worry about heading to Ann Arbor before going to work the next morning.
As far as game time is concerned, Brandon said there hasn't been any formal discussions on when kickoff will be -- but he doesn't expect it to be an issue.
Salt Lake City is in the Mountain Time Zone, meaning a primetime kickoff there would make for a 9 or possibly 10 p.m. kickoff in Ann Arbor.
"I know that game gets a huge national television audience," Brandon said. "I don't know the specific start time of the game, that'll be up to the networks.
"I would anticipate the networks do what they always do: Hold the Eastern coast's huge viewing audience (as its priority). I would be very surprised if that wasn't a primetime game for those watching in the Eastern Time Zone."
Nick Baumgardner covers Michigan sports for AnnArbor.com. He can be reached at 734-623-2514, by email at nickbaumgardner@annarbor.com and followed on Twitter @nickbaumgardner.