Posted on
Wed, Aug 22, 2012 : 1:49 p.m.
Dave Brandon says Michigan football team will host a night game in 2013
By Nick Baumgardner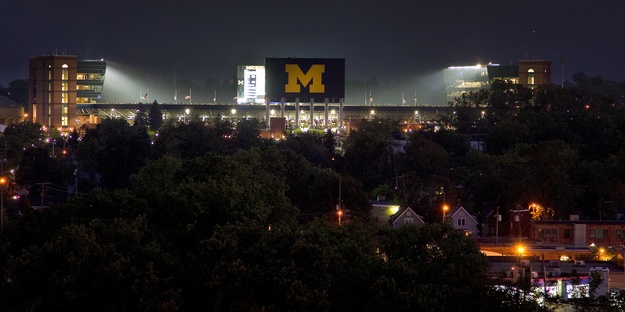 Steve Pepple | AnnArbor.com
Due to scheduling conflicts and an unusually high amount of night-time kickoffs in 2012, Dave Brandon elected to not plan a primetime home game for the Michigan football team this season.
The 2013 campaign, however, is a different story.
"We think we're playing lots of night football (in 2012), and to just jam one into the schedule this year just to say we're having another one at home didn't make a lot of sense," Brandon said during a speaking engagement with the Detroit Economic Club on Wednesday. "We'll have a night game in 2013. We will.
"We'll try to do something even better than we did the last time."
Michigan hosted its first ever home night football game in 2011 against Notre Dame, a contest that ended with a 35-31 Wolverine victory.
Brandon wouldn't say who, exactly, Michigan would host for its second night game in 2013 -- but did confirm several times that the current plan is to host one.
Asked if the primetime foe could once again be Notre Dame, Brandon replied "maybe." He did say, though, that he won't schedule a night time game just to do it -- meaning a 2013 primetime contest against Central Michigan or Akron won't happen.
"My plan is to play one night game at Michigan Stadium (every year), it didn't work out this year," he said. "We'll try again in 2013 and try to find the best matchup with the most fan interest and we'll look at that every year. It doesn't have to be the same team every year, in fact, it's probably better if it's not the same team every year.
"We'll make that decision, and we'll make that in concert with the networks. And we haven't done that yet."
Presently, Michigan's home dates in 2013 are against Central Michigan (Aug. 31), Notre Dame (Sept. 7), Akron (Sept. 14), Minnesota (Oct. 5), Indiana (Oct. 19), Nebraska (Nov. 9) and Ohio State (Nov. 30).
Brandon said he would not schedule a home night game for November, due to potential weather risks -- eliminating Nebraska and Ohio State. The Big Ten also currently has legislation prohibiting teams from hosting league night games in November.
Asked how deep into the season he'd consider hosting a night game, Brandon said he could see one happening possibly in mid-October.
"The further you get into October, the more risks you take, so (maybe) mid-October," Brandon said. "But I think once you get later than that we could run into some (problems). If you get into really nasty weather with our parking issues and temporary lighting, it gets difficult.
"Comfort of our fans (is important). You kick one off at 8 p.m. in November and the winds are howling with the wind chill factor, it's tough. ... We're trying to make it a celebration, positive event. Not a toughness test. That's why I think doing it earlier in the season makes sense."
Nick Baumgardner covers Michigan sports for AnnArbor.com. He can be reached at 734-623-2514, by email at nickbaumgardner@annarbor.com and followed on Twitter @nickbaumgardner.