Posted on
Tue, Jul 3, 2012 : 5:59 a.m.
Dave Brandon pushes strength of schedule, discusses ongoing Big Ten-Pac 12 scheduling alliance
By Nick Baumgardner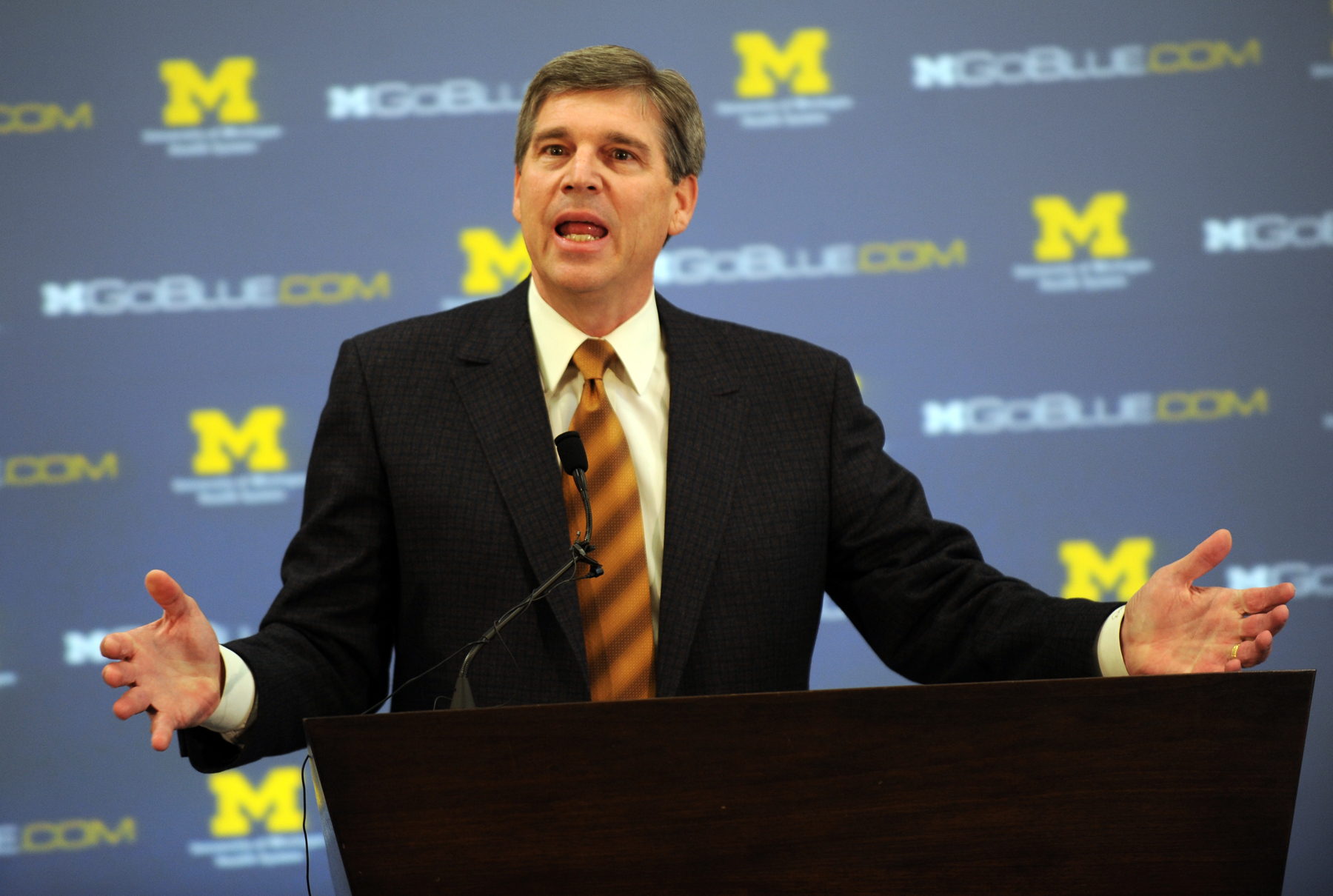 AnnArbor.com file photo
Once upon a time, Michigan athletic director Dave Brandon seemed directly opposed to a college football playoff, preferring the preservation of the Bowl Championship Series instead.
Then, as time went on, Brandon began to come around, saying his opposition to a playoff was often mischaracterized and he'd certainly back a four-team playoff system that included bowl games.
There's been a bit of this, that and the other from Brandon when it comes to his take on a world with a college football playoff. But through it all, one thing has remained completely consistent.
Strength of schedule has to be a top -- if not the top -- priority when it comes to slotting the playoff brackets.
"We, nor any other team in America, (should not) be penalized for taking on a really tough opponent early in the season in the non-conference and maybe lose a close game," Brandon told reporters last week. "That should not be a death blow to a program that wants to compete at the national level.
"And, hopefully, that will be the case."
Brandon was one of several Big Ten athletic directors to express this notion at the conference's spring meetings in May.
He has routinely maintained a position at Michigan to schedule "unique" and "interesting" games during the early portion of the season. In most years, that also includes a long-standing rivalry with Notre Dame.
Brandon also said he would wait to move forward with Michigan's future schedules as long as he could, in an effort to gauge just how much the strength of schedule component will come into play with the new playoff selection committee.
The committee has yet to be formed, and Brandon says he "can't be confident of anything, I don't even know who the selection committee is." That said, he's at least hearing schedule strength will be an important factor -- and now he's crossing his fingers.
"What I have read and heard (is that) one of the things the selection committee is going to weigh is conference championships and strength of schedule," he said. "And I think that's terrific.
"Now, how that translates and gets operationalized in terms of who the committee is and how they ultimately arrive at who the top four teams are remains to be seen. But I like what I'm hearing."
One way the Big Ten has tried to make strength of schedule matter for all its members has been the new scheduling alliance with the Pac-12.
Brandon officially got Michigan involved in the scheduling pact last week by announcing future games with Utah, Oregon State and Colorado.
Naturally, some Michigan fans held their collective breath hoping to see the Wolverines tangle with Pac-12 powers USC, Stanford or Oregon -- but Brandon explained, right now anyway, figuring out a way to match traditional power vs. traditional power within this scheduling agreement isn't the simplest thing in the world.
Brandon has backed a "tier system" that pits the best teams in each league against one another, but so far, that hasn't materialized.
"This collaboration is still being weighed and measured," he said. "It was announced and both conference commissioners are very committed to it, a lot of us think it's a great idea, but at some point it has to transition from a great idea to 'how do you operationalize and schedule it?'
"We're at a moment now where we simply have to wait for this collaboration to take shape and get into some of the details of how that all happens before I can really tell you."
Brandon maintains his position that the Big Ten-Pac-12 agreement is a good idea, and can be utilized to bring about top-level schedules for all involved.
But now, he says, comes the hard part.
"The concept is a really good one," he said. "But now it's like, 'OK, we've got to make this happen.' We've got all these teams with schedules out years in the future and now they're juggling all these balls to figure out how to put it together.
"There's a lot of work being put into it. ... Stay tuned."
Nick Baumgardner covers Michigan sports for AnnArbor.com. He can be reached at 734-623-2514, by email at nickbaumgardner@annarbor.com and followed on Twitter @nickbaumgardner.