Posted on
Wed, Jan 5, 2011 : 10:58 a.m.
Rich Rodriguez fired; Dave Brandon to address state of Michigan football program at 12:30 p.m.
By Jim Knight
Michigan football coach Rich Rodriguez is out after three seasons leading the Wolverines.
Michigan athletic director Dave Brandon will lead a press conference at 12:30 p.m. today to talk about Rodriguez and the football program.
In a release, Brandon said, "I have completed a systematic and thorough review of our football program and believe that a change in leadership is necessary."
The press conference will be streamed live on MGoBlue.com, according to a release from the Michigan athletic department. The Big Ten Network also will televise the press conference.
Senior cornerback Troy Woolfolk said today at 11:30 a.m. that players on the team have not been told anything regarding a decision on Rodriguez's future.
"I don't know nothing," Woolfolk said. "I'm telling you, I'm not going to lie. This is what it is. They most likely are going to tell ya'll before they tell us."
Woolfolk said he understands why players are among the last to hear news. "Everybody's out there and somebody's going to leak it," he said.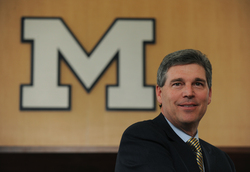 Lon Horwedel | AnnArbor.com
Brandon and Rodriguez met Tuesday, according to sources, and a meeting with players is scheduled for 4 p.m. today.
Rodriguez's future with the team has been in limbo for nearly six weeks. Since a loss to Ohio State, Brandon repeatedly said he would not deliver a decision on Rodriguez until after the Gator Bowl.


On Saturday, Mississippi State beat Michigan in a 52-14 drubbing and the Wolverines finished the season 7-6. It was Michigan's first bowl appearance in Rodriguez's three-year tenure in which the Wolverines are 15-22 and 6-18 in the Big Ten Conference and were put on probation after committing major NCAA violations. Rodriguez was due a $2.5 million buyout if Michigan fired him.
- Pete Bigelow, David Jesse and Jeff Arnold contributed to this article