Posted on
Thu, Aug 19, 2010 : 2:10 p.m.
Dayne Crist will try to break Notre Dame QB losing streak, and more news about future Michigan football opponents
By Rich Rezler
Our weekly trip around the Internet to catch up with news about future Michigan football opponents.
Notre Dame quarterback Dayne Crist will attempt to become the first Fighting Irish quarterback in eight years to win his first career start. Also, Illinois linebacker Martez Wilson and Purdue quarterback Robert Mavre are being counted on to put past injuries and off-the-field issues behind them and have standout seasons.
UConn Most of the recent news surrounding the Huskies has been of the unfortunate, off-the-field variety.
The school announced the suspension of backup quarterback Cody Endres and backup left guard Erik Kuraczea on Wednesday for a violation of university and athletic department policies. While the release says the suspension is for an indefinite period, the Hartford Courant reports that "similarly-worded suspensions in the past have been for one month when they involve athletic department policy."
In other off-the-field news, the lawyer for a man accused of fatally stabbing UConn cornerback Jasper Howard last year wants to take the case to trial this fall. A fall trial would come in the middle of UConn's football season, and several players could be called as witnesses.
Notre Dame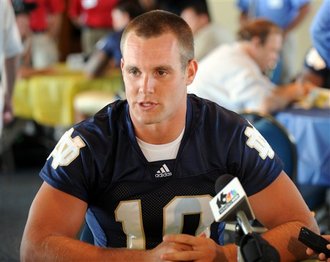 ESPN.com
breaks down the five big things to watch in 2010 for the Fighting Irish
. The top among them being whether junior quarterback Dayne Crist can manage new coach Brian Kelly's spread offense … and stay healthy while doing so.
As the South Bend Tribune points out in its Irish notebook today, Crist will be trying to become the first Notre Dame quarterback to win his first start in eight seasons. The last four Irish starters -- Evan Sharpley, Jimmy Clausen, Demetrius Jones and Brady Quinn - lost their openers by a combined score of 125-23.
Notre Dame opens against Purdue on Sept. 4.
UMass John Griffin, a 1,000-yard running back and team MVP at Northeastern last season, will be wearing a Minutemen uniform during his senior season. Griffin, offensive lineman Greg Niland and linebacker Chad Hunte all ended up at UMass after Northeastern unexpectedly dropped football after last season.
Consider UMass quarterback Kyle Havens a fan of the addition: "John is amazing. He's explosive. He's definitely going to add another dimension to our running game."
Bowling Green Coach Dave Clawson wasn't thrilled with his team's recent scrimmage, reports the Toledo Blade. He said his young roster seemed mentally fatigued. "It's not an excuse, and we've got to push through it," he said. "I told them that if we've mentally hit a wall now, how are we ever going to get through a 12-, 13- or 14-game season?"
Indiana The Hoosier football staff granted media members full access to their program for a full day, giving reporters like the Indianapolis Star's Terry Hutchens a chance to "experience a day in the life of an IU football player."
Starting with breakfast at 6:30 a.m. and ending with a night-time position meeting, Hutchens picked up plenty of Hoosier information during his 13-hour day with the team.
Michigan State MLive.com reports the Spartans are heading to Ford Field today to practice for and promote their second game of the season against Florida Atlantic.
"It gives us a chance to go down there, and as much as anything gives us a chance to catch the ball, field kicks and punts in the stadium," coach Mark Dantonio said. "And your players need a change of scenery, too. We can go down there, be on the turf, break up the dog days."
Over at the Lansing State Journal, Denny Schwarze wonders in print whether freshman William Gholston will end up a linebacker or pass-rushing defensive end. The answer is, the Spartans will try to get him on the field wherever they can.
Iowa A once crowded backfield is a little less so with running back Brandon Wegher still missing from the Hawkeyes' camp after leaving earlier this week for personal reasons.
Des Moines Register columnist Sean Keeler writes today that the door should be left open for Wegher to return, but until then it's nobody's business what happens.
"When it comes to Wegher, the sophomore running back out of Sioux City, everybody has a theory," Keeler writes. "And, thanks to the beauty of the Internet, everybody gets to publish it. Anonymously, of course. The Hawkeye fish bowl can be a pretty dirty place to swim, sometimes."
Penn State PennLive.com reports that Robert Bolden, a true freshman from Orchard Lake St. Mary's, may have taken the lead from sophomore Kevin Newsome in the Nittany Lions' battle for the starting quarterback position.
Fellow freshman Paul Jones appears to be out of the four-headed race. Reports claim Jones was informed by Penn State coaches that they intend to redshirt him.
The New York Times previewed the Nittany Lions on Wednesday, putting them No. 18 in their preseason poll.
Illinois It may be the most overused word in sports, but Illinois players have called redshirt junior linebacker Martez Wilson "a freak" because of his combination of size, speed and power.
After recovering from a stabbing incident and recovering from neck surgery, Herb Gould of the Chicago Sun Times says this is the year that Wilson is due to break out.
Purdue Quarterback Robert Marve came to Purdue with plenty of on-field expectations. What he got over the last three years, Stacy Clardie of the West Lafayette Journal Gazette writes today, is three years filled with off-the-field drama.
But after not taking a snap since November 2008, the Boilermakers are expecting the kid who broke all of Tim Tebow's high school records in Florida to finally be a difference-maker with his big arm and elusiveness.
Wisconsin The Milwaukee Journal Sentinel says mounting injuries are draining the Badgers' depth. Senior strong safety Jay Valai became the fourth projected starter lost to injury.
The Badgers also got a pep talk from former Wisconsin hockey player and current Chicago Blackhawk Adam Burish, who brought the Stanley Cup to Madison for a visit.
Ohio State Boom and Zoom. Those are the nicknames of Buckeye tailbacks Daniel Herron and Brandon Saine, who'll carry the rushing load this season. Herron saw significantly more action last season, but coach Jim Tressel calls Saine "maybe one of the most under-talked-about running backs in the country."