Posted on
Sat, Oct 2, 2010 : 10:37 p.m.
Denard Robinson accounts for 5 TDs as Michigan holds off Indiana
By Pete Bigelow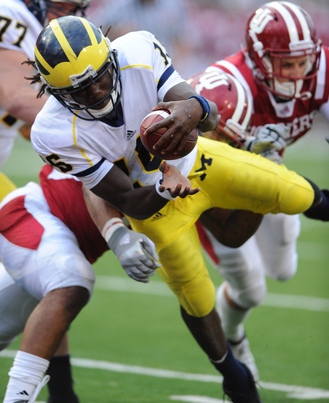 Lon Horwedel | AnnArbor.com
Junior Hemingway has served as the favorite target of the Michigan football team all season. Not in his role as a wide receiver, but as the butt of jokes by teammates.
They've called him Butterfingers for a while now, a nickname that only grew more popular after he dropped a sure-fire touchdown pass last week against Bowling Green.
He also gets teased for "looking like a tight end," Michigan coach Rich Rodriguez said, laughing.
On Saturday, Shoelace helped Butterfingers get noticed for reasons other than his 6-foot-1, 225-pound frame.
Michigan quarterback Denard Robinson connected with Hemingway on a vital 42-yard pass play with 21 seconds remaining in Saturday's game against Indiana.
On the next play, Robinson scored the game-winning touchdown, a 4-yard run that gave Michigan a 42-35 victory over the Hoosiers at Memorial Stadium in the 2010 Big Ten opener.
Robinson gave a lot of the credit to Hemingway, who finished with three catches for 129 yards.
"Man, we've been practicing that all season," said Robinson, who continued his Heisman Trophy campaign, with 494 yards of total offense and five touchdowns.
Robinson had overthrown receivers on three or four deep tries earlier in the game, but had confidence in Hemingway.
"I knew he could go up and get the ball," he said of a play Michigan offensive coordinator Calvin Magee had been itching to call all game. "I knew he could go up and get the ball. I said, 'I'll just put it up there and let him go get it.'"
The two-play sequence capped a back-and-forth game filled with offensive fireworks that featured five different ties. The win was Michigan's first conference road win since Nov. 8, 2008, when the Wolverines beat Minnesota at the Metrodome.
But Saturday's was a record-shredding afternoon filled with big plays and missed opportunities.
"I know what the stats look like," Rodriguez said, "but we're going to watch film and say, golly, we left two or three touchdowns out there."
Robinson carried 19 times for 217 yards and two touchdowns, including a 72-yard touchdown run on Michigan's second offensive play from scrimmage. He completed 10 of 16 passes for 277 yards and three TDs.
"He's just a great athlete," Indiana coach Bill Lynch said. "He's one of those guys that's just different. He's got speed. He's got awareness. He's got instincts, and he's a very, very good passer as well."
Indiana quarterback Ben Chappell might have been better Saturday - he at least made a strong argument by completing 45 of 64 passes for 480 yards and three touchdowns.
It was the most passing yards ever allowed by a Michigan defense. Overall, the Wolverines (5-0, 1-0 Big Ten) allowed 568 yards. It's the second time this year they've given up more than 500 yards of offense. Notre Dame rolled for 535.
"You're never going to play a perfect game," said Michigan defensive tackle Mike Martin, who had a key sack in the fourth quarter. "We have a lot of work to do, but we need to get back and have a great week of practice. We have to get back to the drawing board."
Indiana receiver Tandon Doss frustrated Michigan all day, catching 15 passes for 221 yards. He helped the Hoosiers (3-1, 0-1 Big Ten) control the pace of the game all day ¬- they ran 98 plays from scrimmage.
In the end, it came down to Robinson's composure in a hostile road environment. Like he did against Notre Dame three weeks ago, Robinson rejuvenated a sluggish Wolverines offense when the team needed it most. Michigan took over with 1: 17 left in the game.
It was almost too much time.
"Once we saw how much time was on the clock, we were like, 'OK, we're back at it again," said receiver Roy Roundtree, who led the Wolverines with three catches for 126 yards. "We just got in the huddle and said, 'Let's go, let's finish.'"
By the time they did, the Wolverines moved within one win of bowl eligibility. They haven't reached the postseason since the end of the 2007 season, and are searching for their first bowl bid in Rodriguez's tenure.
They'll have their first chance to clinch it next Saturday when they host Michigan State (3:36 p.m., ABC). Should they need it, they won't hesitate to look in Hemingway's direction again.
"He gets teased a lot for looking like a tight end, but he pulled away a little bit on that pass," Rodriguez said. "He may have the best ball skills on the team. … He has a great feel for the game. "
Box score | Slideshow
Pete Bigelow is AnnArbor.com's Michigan football beat reporter. He can be reached at (734) 623-2556, via e-mail at petebigelow@annarbor.com and followed on Twitter @PeterCBigelow.