Posted on
Mon, Oct 11, 2010 : 2:36 p.m.
Denard Robinson delivered passionate speech to teammates following Michigan football team's loss to Spartans
By Pete Bigelow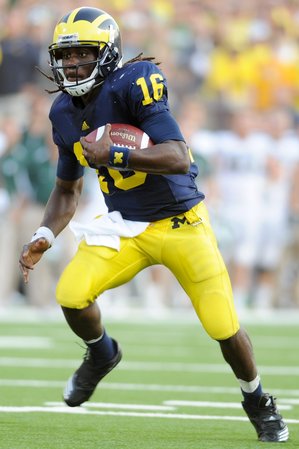 Melanie Maxwell | AnnArbor.com
As the quarterback of the Michigan football team, Denard Robinson is a team leader by default. In the locker room after Saturday's loss to Michigan State, he became one by example.
Teammates said they'd never seen Robinson so outspoken, and that his speech earned him credibility as a team leader.
"Some say it was a tough game for him, but in my personal opinion, it built him," said receiver Kelvin Grady. "I never heard him speak with such emotion. …
"Denard took a step closer to being a leader for this team. He got a lot more respect from us, as players, after he spoke up."
That's not to say he wasn't before, Grady added. But in winning five consecutive games, the Wolverines (5-1 overall, 1-1 Big Ten) didn't need a rallying cry until Saturday.
Standing at his locker following the 34-17 defeat, Robinson didn't use many words to convey his feelings. He didn't mince them either.
According to players, Robinson talked about the bad feelings following the loss, the mistakes and errors made against the Spartans and moving ahead toward Iowa with a positive vibe.
"He was clearly upset after the game," right guard Patrick Omameh said. "We all were. … He was mostly speaking for himself, but saying things didn't go like they should."
Robinson had his worst game of the season, completing 17 of 29 passes for 215 yards, one touchdown and three interceptions. He carried 21 times for 86 yards and a touchdown.
It was the first time all season he'd been held to less than 100 rushing yards.
Robinson didn't dwell on the performance. By the time he arrived in the locker room, he lifted up his teammates spirits.
"In his eyes, you could just see it," Grady said. "He is hungry. … He speaks, just not the way he did. It was with more force and a little bit more meaning."
Pete Bigelow can be reached at (734) 623-2556 or e-mailed at petebigelow@annarbor.com. Follow him on Twitter @PeterCBigelow.