Posted on
Sat, Nov 19, 2011 : 6:39 p.m.
Denard Robinson matches Tom Brady, manages Michigan offense well in lopsided win
By Nick Baumgardner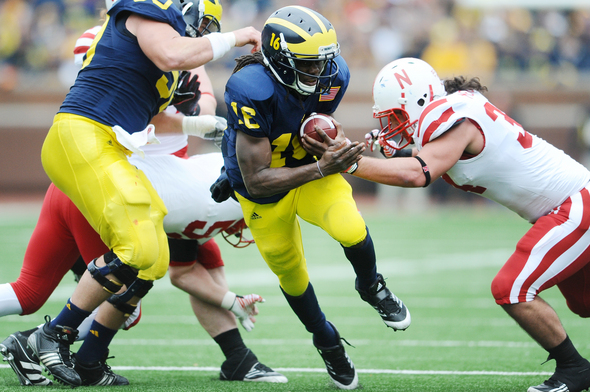 Melanie Maxwell | AnnArbor.com
Michigan junior quarterback Denard Robinson has had to answer several questions about his arm this season, more negative than positive.
But after guiding the Michigan football team to arguably its most impressive win of his three-year career Saturday against Nebraska, Robinson was caught off-guard when he was given another passing-related query.
Reporter: "Denard, today you matched Tom Brady's (career number of) 35 (passing) touchdowns at Michigan, could you talk about that a little bit?
Robinson: "Excuse me?"
With a 38-yard touchdown pass to Martavious Odoms in the fourth quarter, Robinson officially put his name in the same sentence as the former Michigan signal-caller, tying Brady for seventh on the school's all-time passing touchdown list.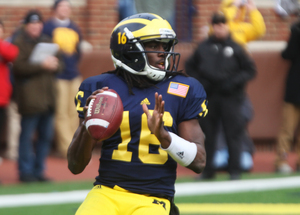 Jeff Sainlar | AnnArbor.com
It's just one statistic, and it doesn't matter much. But after getting questioned about his capabilities as a quarterback for most of the season, Robinson sat at the press table with an ear-to-ear grin Saturday, happily discussing his final statistics for perhaps the first time this season.
"I'm going out there and having fun with my team," Robinson said of his improved play. "That's the biggest thing."
Robinson wasn't spectacular, as he threw his 14th interception of the season during the first half on a tipped pass at the line of scrimmage.
But for the first time in arguably a month, he wasn't erratic.
Robinson finished 11-for-18 for 180 yards, two touchdowns and the interception. On the ground, he was steady, rushing 23 times for 83 yards and two scores.
Sophomore quarterback Devin Gardner did eventually relieve Robinson, but in a different way than he had over the past two weeks. Robinson wasn't limping off the field with an injury this week.
This time, Robinson exited in full health, with his team holding a 45-17 lead.
"He was a little bit beat up in the (middle part of the season) with some ailments," Michigan coach Brady Hoke said of his quarterback. "But I think he's healthy now. I think he's more confident, and the one thing I can tell is he's taking ownership as a leader.
"That's neat to see."
Hoke has firmly stood behind Robinson as his starter, routinely dodging questions about his ability to patiently run offensive coordinator Al Borges' pro-style offense.
On the season, Robinson's numbers are nowhere near Heisman-worthy.
He's completed 54 percent of his passes for 1,889 yards with 15 touchdowns and 14 interceptions.
On the ground, he likely won't come anywhere near his total of 1,702 yards a year ago, as he's rushed for 993 yards through 11 games.
But, like Hoke, his teammates don't really care.
"I love playing for Denard, I really do," Michigan senior offensive tackle Mark Huyge said. "In the run game he can make stuff happen all the time, he can pull the ball down and run in the pass game, and when he threw that ball to Martavious Odoms in that end zone, that was a great throw.
"That's something that we need."
Robinson isn't perfect as a passer, and he probably never will be.
But his team is 9-2.
At this point in the season, does anything else really matter?
"A lot of people doubt his throwing," Odoms said. "But when he needs to make a play, he gets the job done."
Nick Baumgardner covers Michigan basketball for AnnArbor.com. He can be reached at 734-623-2514, by email at nickbaumgardner@annarbor.com and followed on Twitter @nickbaumgardner.