Posted on
Sun, Jan 1, 2012 : 5:59 a.m.
Michigan quarterback Denard Robinson grows from 'scared little kid' into rising star
By Kyle Meinke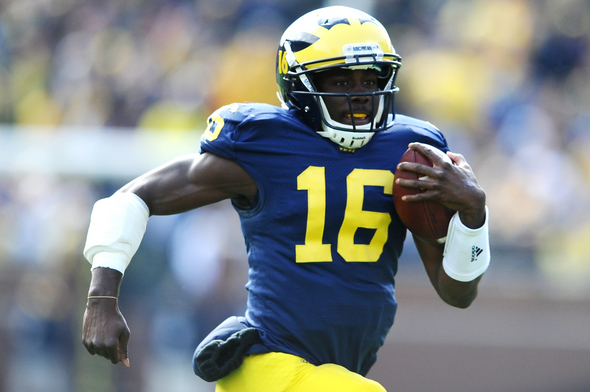 Melanie Maxwell | AnnArbor.com
NEW ORLEANS — Denard Robinson is one of the most electrifying players in the country.
Yet, just days before playing in front of the nation in the Sugar Bowl, he acknowledged there was a time he thought he might never play big-time college football.
"My dream was to be an NFL player — then when I got to high school, I was like, 'Hopefully, I can get to a Division II school," Robinson said.
Eventually, he landed at Michigan to operate former coach Rich Rodriguez's spread-option offense. But center David Molk still can remember when the teenager from Deerfield Beach, Fla., first stepped onto campus as a "scared little kid that didn't know what to do."
"He'd be so scared, he wouldn't catch the snap half the time and then just go," Molk said.
Sure enough, Robinson bobbled the first snap he took at Michigan, perfectly capturing that temperament. But the play also presaged what was to come, as Robinson proceeded to pick up the ball and sprint — untouched — for a 43-yard touchdown against Western Michigan.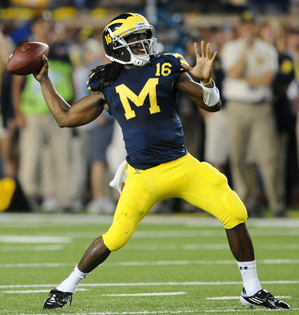 The past three years have been anything but smooth for Robinson, but after leading his team to a BCS matchup Tuesday against Virginia Tech in the Sugar Bowl (8:30 p.m.), it's safe to say he's all grown up.
"In the past, he's had a little too much fun, sometimes, and he's come down from that a little bit," Molk said. "He's grown up in front of my eyes. I feel like I'm a father, but he's matured."
Robinson burst onto the scene last year as a sophomore, putting up video-game stats in the first two weeks against UConn and Notre Dame to leap from obscurity into Heisman Trophy contention in a single bound.
He was the big man on campus, as his long, flowing dreadlocks and megawatt smile helped to make him a recognizable face. He was constantly stopped around school and became the Wolverines' most-requested player for media interviews.
The soft-spoken and ultra-shy Robinson went from backup quarterback to face of the Michigan football program overnight, a transition he had difficulty traversing.
"I was undersized (in high school) and I didn't know anyone would look at me," Robinson said. "I was like, 'Hopefully, I can just get out of the city of Deerfield.' ... Then my sophomore season came around and it was, like, wow, I was in the Heisman running.
"Those were things I dreamed about. I didn't think I could do it, but those were all dreams that came true."
Robinson rushed for 1,702 yards last year as a first-year starter. That happens to be an NCAA record.
But his world was shaken when the coach who made him a star, Rodriguez, was fired for a coach that planned to de-emphasize him in the offense, Brady Hoke.
Offensive coordinator Al Borges has worked this year to blend the spread-option into his preferred West Coast system to capitalize on Robinson's dual-threat talents, but he had to warn the quarterback: Your numbers will never be the same.
Many quarterbacks, particularly those with pro aspirations, would not have reacted well to such a pronouncement. Robinson, though, isn't like most quarterbacks.
He rushed for 1,163 yards and threw for 2,056, which is a combined 1,053 dip from last year, and did it with that same megawatt smile.
"I think he's handled it great, and I mean, I can answer that with all my heart, because he's had to make sacrifices," Borges said. "He accepted that, and really worked at developing other phases of his game. Now, in the interim, he took some hits, literally and physically. Some scrutiny, because he didn't have his feet on the ground.
"It'd be easy for some kids to say, 'Hey, what the heck?' Not him."
Robinson began the season slowly in the passing game as he adjusted to the new offensive scheme, then was beset by an assortment of injuries, most of which he kept to himself. That includes a staph infection that hospitalized him for a night and nearly kept him from playing against Minnesota.
But he persevered, eventually hitting his stride in the season's final three games. Borges said the tipping point was the Illinois game, when Robinson began to master the passing attack of the new offense.
After completing less than 50 percent of his passes in five of the first eight games, he hit on 31 of 45 passes (68.9 percent) in the final four.
He's also continued his maturation off the field, turning into a more vocal leader.
"I remember just talking to him (when he first got here), and he was shy, didn't really talk," junior receiver Roy Roundtree said. "But now, he's a leader on our team and, when he's in our huddle, he's demanding. He's someone who I look up to right now, even though he's younger than me."
Robinson's progression isn't much different than that of another mobile quarterback he grew up idolizing: Michael Vick, the former Virginia Tech star who led the Hokies to the 2000 national championship game in this city.
"That's what I'm trying to work for — that's why I'm trying to be a better quarterback and passer," Robinson said. "Hopefully, I can have the blessing of playing quarterback in the NFL some day, just like Michael Vick."
Virginia Tech coach Frank Beamer sees a connection between his former star and the rising star he's about to face.
"Certainly the same type of athlete," Beamer said. "A lot of quarterbacks are tough to tackle in open spaces. This is one that's hard to tackle in close spaces.
"You look at video and a lot of times guys you think are going to get him, they don't get him. I mean, he's got a skill now. And he throws the ball well. I think he's not only an athlete, but he can really throw the ball well."
The Hokies didn't recruit Robinson. They might pay for that decision now, as Robinson looks to take the next step in his evolution against them.
"That was a mistake," Beamer quipped. "I'll tell you one thing: The ol' boy can do it. He can flat do it."
Kyle Meinke covers Michigan football for AnnArbor.com. He can be reached at 734-623-2588, by email at kylemeinke@annarbor.com and followed on Twitter @kmeinke.