Posted on
Sat, Oct 15, 2011 : 5:47 p.m.
Denard Robinson mum on injury, Devin Gardner fares no better in Michigan loss
By Nick Baumgardner
EAST LANSING -- After being chased, harassed and drilled for the better part of the second half, the final hit of the game against Michigan junior quarterback Denard Robinson proved to be one too many.
After throwing an incomplete pass to Jeremy Gallon late in the fourth quarter, Robinson was thrown to the ground by Michigan State redshirt freshman defensive end Marcus Rush.
Rush was flagged for a personal foul, one of five MSU had Saturday, while Robinson was helped to the sidelines and did not return.
Following the game, neither Michigan coach Brady Hoke, nor Robinson, detailed the severity of the injury, or what exactly was injured for that matter.
"He got beat up a little bit, yeah," Hoke said. "I really don't know what it is, yet."
Hoke has been quiet on injuries all season, and says that's his policy.
It's apparently Robinson's, too.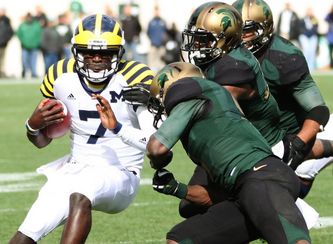 Jeff Sainlar I AnnArbor.com
"I got a little dinged up," he said. "We'll see, we'll have to talk to the trainers and see what's going on."
Asked if it was a concussion-type injury, Robinson said no. Asked if it was a cheap shot, he offered little explanation. The only thing he was clear on was the trainers wouldn't allow him to return, and that the injury shouldn't force him to miss any more game time.
He hopes not, anyway.
"We've got two weeks (with an off week next on the Wolverines' schedule) and our training staff is one of the best in the country," he said.
Prior to Robinson's injury, Michigan filtered in sophomore quarterback Devin Gardner periodically. At times, the Wolverines showed a wildcat-type formation with Gardner at quarterback and Robinson split out in motion.
At other times, Gardner was in the game on his own, with Robinson was on the sidelines.
"We thought we might do some of that," Hoke said in reference to playing both quarterbacks. "And part of what pushed (us to do it more) was that it was a windy day.
"And Devin, at times, can throw the ball a little more accurately."
Robinson finished his day 9-for-24 for 123 yards passing, a touchdown and an interception. He rushed for 42 yards and was sacked four times. It was the second straight week he's been forced to leave the game due to injury. He missed three second-half plays with a hand injury during a 42-24 win at Northwestern last week.
Gardner, meanwhile, finished 3-for-7 with 45 yards passing. He also carried the ball six times for -15 yards and was sacked three times.
Following Robinson's injury on the final drive, Gardner threw his best pass of the season, a 32-yard pickup to Gallon.
After that, though, he threw an incompletion, was flagged for an illegal forward pass and finished the game with back-to-back sacks, the final on a lengthy scramble that saw him reverse his field twice before being taken down for a 10-yard loss.
No matter how you slice it, Michigan's quarterbacking numbers were poor Saturday. Combined, the Wolverines-duo went a combined 12-for-31 for 168 yards, a touchdown and an interception.
On the ground, they carried the ball 24 total times for 27 yards.
Nick Baumgardner covers Michigan basketball for AnnArbor.com. He can be reached at 734-623-2514, by email at nickbaumgardner@annarbor.com and followed on Twitter @nickbaumgardner.