Posted on
Wed, Oct 12, 2011 : 4:19 p.m.
Denard Robinson has paid more attention to his health this season, feels good at midway point of season
By Nick Baumgardner
Through six games a season ago, Michigan junior quarterback Denard Robinson had already racked up 119 carries and was starting to feel the accumulation of bumps and bruises that forced him to miss plays in 10 of the team's 12 regular season games.
Entering this season, Michigan coach Brady Hoke and offensive coordinator Al Borges insisted Robinson's carries would be lowered in order to keep him in better health.
Technically, they've told the truth. In reality, Robinson's carry pace is very similar. He's at 102 through the midway point this year.
His overall health, though? That's a different story.
"My body's not beat up how it was last year," Robinson said Wednesday. "I've treated myself better than I did last year. I've taken care of my body."
Robinson has only left one game due to injury this season.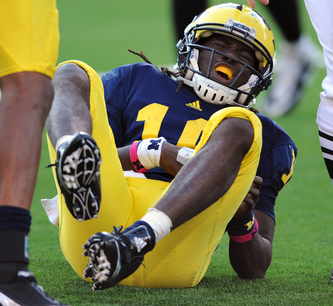 AnnArbor.com file photo
After a third-quarter run gainst Northwestern last week, he left the game favoring his left hand. Sophomore quarterback
Devin Gardner
took the next three snaps, finishing the drive with a 1-yard touchdown run.
Gardner's services weren't needed from there. Robinson returned on the team's next possession and showed no signs of any significant injury (an ailment he and Hoke would later call a "boo-boo").
Robinson's still taking hits, he's still being called upon for 17 carries per game, but so far, he's not getting hurt.
And he knows why.
"The trainers, they help me get (in the training room) more like I'm supposed to," he said. "I'm just trying to recover better than I did last year, because I didn't know how to do that last year."
Robinson said he's made more of a conscious effort to seek treatment throughout the week and after games, explaining that he spends much more time in the cold and hot tubs this season than he ever did a year ago.
THURSDAY LIVE CHAT
Come back to AnnArbor.com at noon Thursday for a live chat with Kyle Meinke. He'll recap the Wolverines' win over Northwestern, discuss news that emerged this week and preview the game against Michigan State on Saturday.
Keeping Robinson healthy has been a major point of emphasis for Hoke and company this season, but the junior quarterback said that's nothing new. Robinson said former coach
Rich Rodriguez
and his staff also stressed the importance of staying healthy. For whatever reason, he didn't take their advice as much.
"That was more on me, because I didn't take the time out to do that," he said. "It was (stressed), I just wasn't listening."
He's listening now. Entering Michigan's biggest game of the season to date, the team's best player says he feels far better physically than he did at this time a year ago.

Barnum back at practice
Hoke said that injured junior guard Ricky Barnum (ankle) practiced with the team Tuesday and was expected to do the same Wednesday.
He did not offer Barnum's official status for Saturday.
In other injury news, Hoke said that senior linebacker Brandon Herron did not travel to Northwestern last week due to undisclosed injury.
Herron scored two defensive touchdowns in Michigan's season-opening win over Western Michigan but has played just once since then due to a previous leg injury.
"He's on our football team," Hoke said of Herron. "And he'll practice again today like he did yesterday."
As for Cam Gordon, the sophomore linebacker's back injury appeared fine enough for him to make the travel squad last week, but he still has yet to play in a game.
Hoke said that Gordon's injury "hasn't helped his development like you'd like to see." When asked if he'd be able to play this weekend, Hoke offered little insight.
"He practiced pretty well (Tuesday), I think the more he does the better off he'll get," Hoke said. "We have to get him healthy, first, for his own safety. The worst thing we can do is put a guy out there who's not ready, because that's not being accountable to this program and this team.
"It's not being accountable to him when you look at where he's at health-wise."
Staff still confident in Gibbons
Hoke said the reason sophomore kicker
Brendan Gibbons
had a 47-yard field goal blocked last week was due to pressure up the middle by Northwestern, not a poor kick by Gibbons.
On the season, Gibbons is 4-for-6 with a long of 38 yards.
"We got pushed back a little bit over the guard," Hoke said of last week's miss.
Hoke again confirmed the staff's confidence in Gibbons.
"He's probably a little stronger than that, he's hit some balls in practice (from about) 55 or something like that," Hoke said. "I know we have a lot of faith in Brendan right now."
Asked if Gibbons has passed freshman Matt Wile as the team's long-distance field goal kicker, Hoke said he was unsure.

Ready for trickery
If Michigan State coach Mark Dantonio has any trick plays tucked away for the game Saturday, Hoke says his team should be prepared.
The Spartans cashed in a big play against the Wolverines last season when quarterback Kirk Cousins took a pitch out of a wildcat formation and found Keith Nichol on a 42-yard pickup.
Earlier last season, Michigan State stunned Notre Dame in overtime with its now famous "Little Giants" fake field goal.
Hoke said if his defense minds its job and keeps focus, tricks shouldn't be an issue Saturday.
"Your eye discipline is going to help you defend those plays," Hoke said. "There's always some that are very unique that you may run into now and again, but if you're disciplined with what your job is and your eyes, then you'll do a pretty good job."
Nick Baumgardner covers Michigan sports for AnnArbor.com. He can be reached at 734-623-2514, by email at nickbaumgardner@annarbor.com and followed on Twitter @nickbaumgardner.