Posted on
Sat, Sep 11, 2010 : 10:09 p.m.
Denard Robinson's record-setting day tops Notre Dame, keeps Michigan football team unbeaten
By Pete Bigelow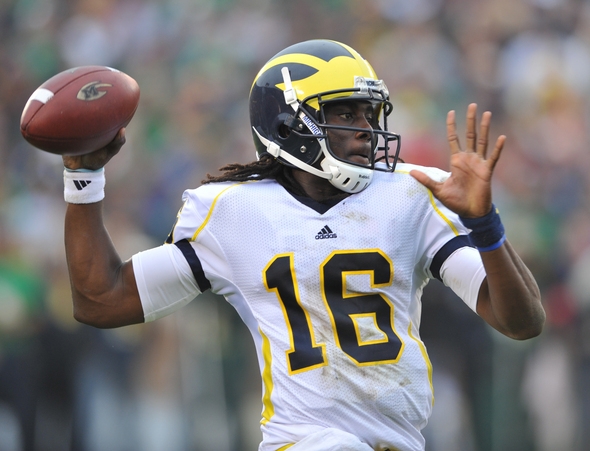 SOUTH BEND, Ind. - Denard Robinson was tongue-tied. Rich Rodriguez was untied. Moments after they put the finishing touches on a wild 28-24 victory over Notre Dame, the quarterback and coach could barely contain their joy Saturday night.
Robinson, making his second start at quarterback for the Michigan football team, had no explanation for his second straight record-breaking performance, in which he accounted for 502 yards of offense.
"I'm speechless right now," he said. "I really don't know what to say right now. That was amazing."
Rodriguez, the coach hired from West Virginia nearly three years ago to bring the spread offense to Ann Arbor, didn't have much to say either, but certainly expressed his gratitude.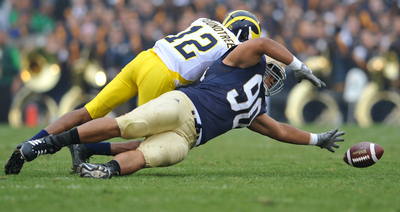 Lon Horwedel | AnnArbor.com

"I've got my shoes untied in honor of Denard," he said, kicking his right sneaker out from behind a podium to offer evidence of his tribute to a quarterback nicknamed "Shoelace."
This is what Rodriguez was hired to do. This is what Robinson was born to do, befuddle opponents by running the spread offense to near perfection.
Together, they have much-maligned Michigan off to a 2-0 start in a season in which the Wolverines hope to end an unprecedented bowl drought and restore respect to the winningest program in college football history.
Robinson did his part, playing like a Heisman Trophy hopeful Saturday. He kept his composure on a game-winning drive that culminated with his 2-yard touchdown run with 27 seconds remaining.
"I was just praying on the sideline," defensive end Craig Roh said, of watching the victory unfold.
One week after setting the school's single-game rushing record for a quarterback against UConn, the sophomore from Deerfield Beach, Fla. Robinson upstaged himself in his encore performance.
In the air, Robinson threw for 244 yards and a touchdown. On the ground, he ran for a Big Ten single-game quarterback record of 258 yards and two touchdowns.
The total included an 87-yard touchdown run, the second-longest in Notre Dame Stadium history, which gave Michigan a 21-7 lead shortly before halftime.
"He played out of his body, man," Michigan linebacker Jonas Mouton said. "I don't know."
Despite his earlier efforts ­- and the fact the Wolverines defense had three interceptions in the game - the Wolverines missed opportunities left and right in the second half.
Brendan Gibbons missed 34-yard and 40-yard field goal attempts wide right and the Michigan offense couldn't produce points off a Jordan Kovacs interception in Notre Dame territory.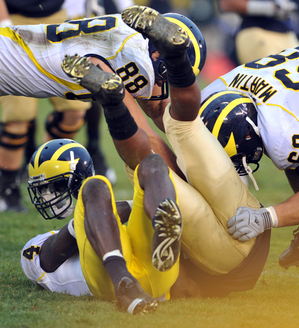 Lon Horwedel | AnnArbor.com
The Fighting Irish (1-1) chipped at their 14-point deficit, and captured a 24-21 lead with 3:41 to play on a 95-yard touchdown pass to Kyle Rudolph, the second-longest in Notre Dame history.
The Irish had attempted the play once before - Notre Dame quarterback Dayne Crist had overthrown Rudolph - and liked their chances of running it again down the middle of the field.
"It's one of our go-to plays, something we're very comfortable with," Rudolph said. "We had said we're going to come back to it, and Dayne told me to just be ready."
But Robinson saved his best for an epic final drive.
In the huddle, he told the Wolverines, "It's time to put it in, time to put the game away. We let them stick around too long, and now it's time for us to put it away."
Calm and composed, he pushed the Wolverines from their own 28-yard line quickly to the Notre Dame 35, hitting Darryl Stonum and Michael Shaw on curl routes.
On a fourth-and-one play that could have essentially clinched a Notre Dame win, Robinson ran his most important yard of the afternoon, fighting linebackers Manti Te'o and Darius Fleming for the inches needed to keep Michigan's hopes alive.
Reborn at the 34-yard line, Robinson hit Shaw on another curl route that Shaw seemingly broke for a 30-yard gain. But officials ruled that Shaw had stepped out of bounds at the 22-yard line.
"I wasn't out of bounds," he said. "I looked at my hands when I put it down, and saw my foot. When I got up, all my teammates were saying the cleat mark stops at the hash on the sideline."
It wouldn't be the first time officials missed a call - video evidence showed Notre Dame's TJ Jones fumbled at the 1-yard line on what was ruled a 53-yard touchdown pass early in the second half.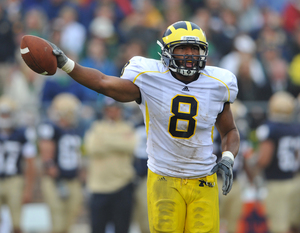 Lon Horwedel | AnnArbor.com
No matter, the call against Shaw just set up more Robinson theatrics.
On a third-and-five, Robinson thought back to the first time he conducted a potential game-winning drive for Michigan. In that moment, he threw an interception that sealed Iowa's 30-28 win last year.
Then receiver Roy Roundtree, playing despite internal bruises, flashed his quarterback a knowing sign.
"Man, he gave me a wink before the play," Robinson said. "He winked at me. I knew I could go to him. I knew I could count on him. And it was time."
Robinson recognized Notre Dame's cover zero defense, made the read, and threw a perfect pass to Roundtree on a crossing route that took the ball to the 2-yard line.
On the next play, Robinson cemented what he had started, plunging in on a 2-yard touchdown run with 27 seconds left.
Notre Dame frantically drove down the field in the final seconds, and the outcome was in doubt until Crist overthrew the end zone on the game's final play.
When it was over, Michigan had its first signature road win of the Rodriguez era, a 2-0 record through two bellwether games and perhaps a postseason award prospect conducting its spread offense.
"Let's put a little caution in here," Rodriguez said. "This is his second game as a starter. There' s going to be bumps in the road. But if he keeps making progress like this, it's going to be pretty exciting."
Pete Bigelow can be reached at (734) 623-2556, via email at petebigelow@annarbor.com and followed on Twitter @PeterCBigelow.