Posted on
Wed, Feb 2, 2011 : 6:39 p.m.
Denard Robinson will be used differently in Michigan football team's new offense
By Pete Bigelow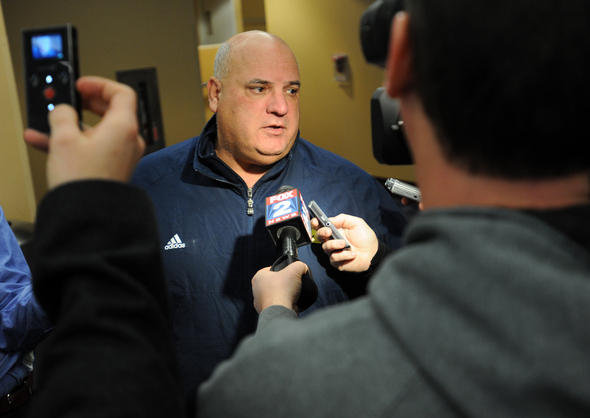 Melanie Maxwell | AnnArbor.com
Denard Robinson rushed for 1,702 yards last season - the most ever by a college football quarterback.
He probably won't approach the number again.
As the Michigan football team transitions from the spread offense to a pro-style set, new offensive coordinator Al Borges tempered expectations of a possible repeat for his quarterback.
"Maybe it won't be rushing for 1,700 yards, but maybe what we lose rushing we gain passing," Borges said Wednesday. "Maybe it's 1,200 yards or 1,000 yards."
Whatever Robinson might sacrifice statistically, his new coordinator said it would be for the good of the offense as a whole. Michigan intends to be a ball-control offense - and score plenty of points.
The Wolverines finished third in the Big Ten last year, averaging 32.8 points per game.
Robinson was the fixture of the offense. Even though Borges worked on the other side of the country, he was well aware of the sophomore's breakthrough season.
"He's a dynamic player, but I didn't need to look at much tape to see that," he said. "All you had to do was sit in our hotel room on Saturdays. We played a lot of night games, and he was always on the highlights."
Borges is uncertain of some of the specifics on how he'll fine-tune the offense for Robinson's particular talents - but he knows for sure he'll find a way.
"He has the ability to run the ball like no one I've ever had before," Borges said. "So we're going to find ways to explore the things he does best while still installing the things we'll do offensively."
As for Robinson's backup ...
At the end of the football season, true freshman quarterback Devin Gardner filed paperwork to petition the NCAA for a medical redshirt year due to lower back problems.
On Wednesday, Michigan football coach Brady Hoke said that process is under way. He did not know the timetable for a decision.
Roster update
Attrition seems to be a natural byproduct of a coaching change, but as of Wednesday, Hoke said there have been no changes on the Wolverines roster since he took the job.
Not yet, anyway. In some ways, attrition may be inevitable.
"It's not going to be for everybody, and that's OK," he said. "I mean, there's no problem with that. I don't have a problem with it. We want guys who believe in Michigan, who understand what Michigan means and what it means to wear that helmet."
Pete Bigelow covers the Michigan football team for AnnArbor.com. He can be reached at (734) 623-2551, via e-mail at petebigelow@annarbor.com and followed on Twitter @PeterCBigelow.