Posted on
Tue, Aug 21, 2012 : 5:59 a.m.
Denard Robinson will set records this year, but Michigan won't alter approach for Heisman campaign
By Kyle Meinke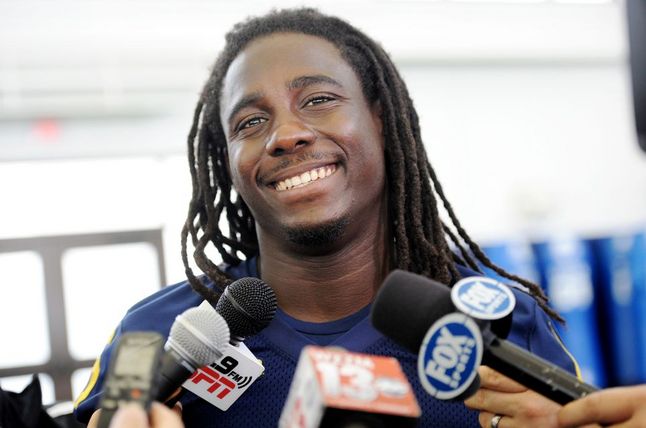 Melanie Maxwell | AnnArbor.com
The
Michigan football
team has won a record 895 games. It's won 11 national championships and 42 conference championships.
It has 78 consensus All-Americans.
And yet, just one primarily offensive player has won the Heisman Trophy since World War II.
Why?
"Because we spread that thing around," said Desmond Howard, Michigan's lone offensive Heisman Trophy winner since 1940. "You got to understand, I won the Heisman within the rhythm of our offense.
"We had guys who could tote the pill and we toted it, we just didn't throw the ball to 21. We tried to run the ball -- that was still our primary goal."
Still is.
Heisman Trophy campaigns have grown in scale in recent years. Some are understated, such as Washington State promoting Ryan Leaf in 1997 by distributing single leafs to voters.
Others are ostentatious, such as Oregon spending $250,000 to affix a Joey Harrington billboard to a New York City skyscraper.
This year, Heisman hopeful Matt Barkley of USC has gone high-tech. The quarterback designed his own app called "Project Tro7an," which will track his progress this season.
Michigan has its own Heisman Trophy candidate, quarterback Denard Robinson. But don't expect to see an app for that.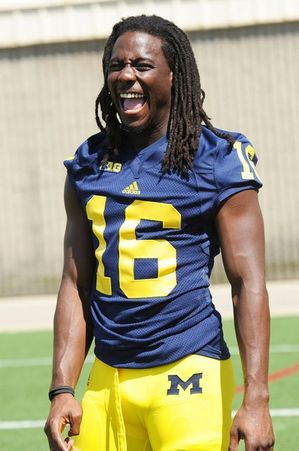 Melanie Maxwell | AnnArbor.com
The Wolverines historically have refused to single out players for public promotion, including during Heisman runs for Howard in 1991 and Charles Woodson in 1997.
That philosophy extends to the field.
"The most important thing is the team has a chance to be as good as it can be, even if that means sacrificing Heisman Trophies," offensive coordinator Al Borges said in a recent interview. "Some of the accolades that go with high-profile players, that's not at the top of our lists.
"There's no goal in that room that says 'Denard Robinson wins a Heisman Trophy.' I'd love for that to happen, and I've had kids get close to it, but this is not a place that you go to, necessarily, with that in mind. This is a place you go to to win football games."
Robinson put up historic numbers as a first-year starter in 2010. His 1,702 rushing yards that season remain an NCAA record for quarterbacks.
But that heavy usage also caused Robinson to break down. He played poorly down the stretch, and left 10 games with injury.
When Borges arrived at Michigan last year, he introduced a featured tailback to taper the Wolverines' reliance on Robinson.
Robinson's numbers went down, but he also found better consistency, durability and effectiveness. The Wolverines averaged 33.3 points per game, their best offensive season since 2003.
Robinson has embraced that approach, even if it costs him the kind of overall production that could help him win college football's top individual award.
"It comes down to the team winning," he said last month. "How many times the team wins, that's how much I'll be up for the Heisman. If we keep winning, there's a possibility I could win the Heisman. If we're not winning, I won't even have a chance to make it to New York."
Borges won't help Robinson pad his stats. But that's not to say Robinson won't set records anyway.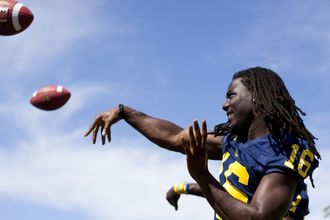 Jeffrey Smith | AnnArbor.com
The senior begins the season either holding or on the verge of breaking several records. That includes the all-time NCAA rushing record for quarterbacks. With 3,229 career rushing yards, Robinson needs only 1,251 yards to match former West Virginia quarterback Pat White.
"I didn't even know that," Robinson said. "I'm shocked that even came up. I just want to be the best I can be, the best for the team. Whatever it takes to do what's best for the team. If I have to run it that many times, carry it that many times, I'll do that.
"I really don't set my goals to be the best (rushing quarterback). I just want to be me. I just want to be best for the team, and be accountable for the team. Whatever happens with the (record), we'll see."
A look at Robinson's place in the record books entering his final season as a collegian:
NCAA
Single-season rushing yards by quarterback: Robinson holds the record at 1,702 yards, surpassing Air Forces's Beau Morgan (1,494) in 2010.
Career rushing yards by quarterback: Robinson (3,229) ranks 13th, and is 1,251 off the all-time mark held by Pat White of West Virginia. Robinson rushed for 1,176 yards last year, so the mark is within reach.
Big Ten
Career rushing for quarterback: Robinson's 3,229 yards trail only Indiana's Antwaan Randle El (3,895). If he stays healthy, Robinson will crush this mark.
Career total yards: Robinson (8,160) is only 974 yards from surpassing Purdue's Mark Herrmann to crack the top-10 list. If he matches last year's 3,349 yards, he will be fifth all time. He is 4,532 yards from Drew Brees' all-time record 12,692 yards, which likely is out of Robinson's reach.
School
Career rushing yards: Robinson (3,229) is eighth all-time and will edge past Jamie Morris (4,393) for third if he matches last year's output of 1,176 yards. He could catch Anthony Thomas for second with another 67 yards. He likely won't catch Mike Hart (5,040) for the career record.
Career passing yards: Robinson (4,931), currently seventh in school history, is poised to pass Tom Brady (5,351), Jim Harbaugh (5,449) and Todd Collins (5,858). If he matches last year's total of 2,173 yards, Robinson also will pass Elvis Grbac (6,460) for third all time, trailing only Chad Henne (9,715) and John Navarre (9,254).
Total yards: Robinson already has the two best seasons in school history, recording 4,272 in 2010 and 3,349 yards in 2011. He's third in career yardage at 8,160, but trails leader Chad Henne by just 1,140. Robinson easily will be the school's career leader if he remains healthy.
Touchdown passes in a game: Robinson already is tied for the school record with four against Notre Dame last season.
Career touchdown passes: Robinson (40) should pass Steve Smith (42) and Rich Leach (48) for fourth all time.
Interceptions: Robinson (30) is sixth all-time, seven from tying Chad Henne for the career record. He tossed 15 last year and 11 in 2010.
Rushing touchdowns: Currently fifth all-time, Robinson (35) likely will pass Mike Hart (41) and Chris Perry (39) for third all time. He likely won't catch Anthony Thomas at No. 1 (55).
Career scoring: Thirteenth all-time, Robinson (210 points) won't come close to Garrett Rivas' school-record 354, but could climb into the top five with 70 points (he had 96 last year). He already owns the quarterback record over Rick Leach (204).
Career touches: Robinson (1,126), currently third, needs 441 touches to pass Henne for the school record. He had 479 last year and 547 in 2012.
Average yards per play: Robinson (7.25) currently holds the school career record ahead of runner-up Todd Collins (7.02). Both of his first two years as starter rank among the top 10, topping out at 7.81 yards per play in 2010, second only to Drew Henson's 7.93 in 2000.
Average yards per game: Robinson (328.6 in 2010, 257.6 in 2011) already owns the two best seasons in school history, and his career mark (214.7) is 6.4 yards better than No. 2 John Navarre.
Kyle Meinke covers Michigan football for AnnArbor.com.