Posted on
Sat, Sep 24, 2011 : 6:03 p.m.
Denard Robinson's big first half carries Michigan against San Diego State, 28-7
By Kyle Meinke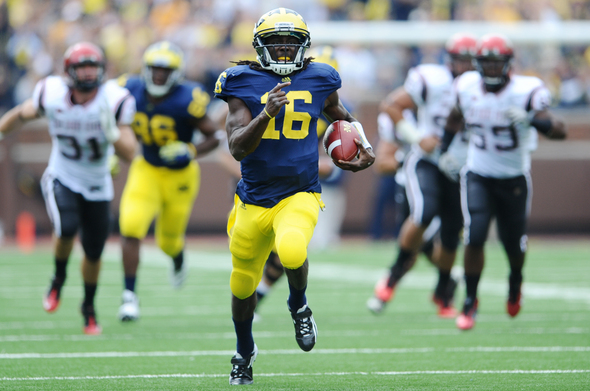 Melanie Maxwell | AnnArbor.com
Updated at 6:03 p.m.
It was a tale of two halves again for the Michigan football team.
This time, it was the other way around — thanks largely to the guy who wears No. 16.
Quarterback Denard Robinson rushed for 139 first-half yards to help the Wolverines get off to a torrid start against San Diego State, then hold on to give coach Brady Hoke a 28-7 win Saturday against his former team at Michigan Stadium.
Michigan completed a sweep of its non-conference season and is 4-0 heading into its Big Ten opener next week against Minnesota (noon, BTN).
"We're going to be in there (Sunday), put this game to bed as coaches and players and get ready for Minnesota," Hoke said after the game.
First, though, his team picked up a tricky win that was teeming with subplots.
Hoke and five Michigan assistants, including offensive coordinator Al Borges, came to Ann Arbor from San Diego State in the off-season. Hoke had coached there two years before taking his dream job.
Was it difficult for that contingent to face their former players?
"Absolutely," Borges said outside the tunnel after the game. "We spent two years with those kids. They're near and dear to our heart, you know. I'm glad this game's over, I really am.
"I was kind of in denial until we actually had to play it."
Hoke spent some time after the game greeting his former players, whom he left via mass text message because they were on semester break when he accepted the Michigan job in January.
He declined to discuss the nature of those conversations, instead focusing on what transpired on the field.
He had to be pleased -- especially early.
Robinson scored three first-half touchdowns on runs of 1, 5 and 53 yards. That matched a career record for touchdowns in a game and helped Michigan get off to its first fast start of the season.
"That's one thing Coach was preaching on all week, and all the seniors were just like, 'Hey, we got to start taking off fast,'" a smiling Robinson said after the game. "So, Tuesday at practice, everyone came out amped and ready to go."
Robinson rushed for a 5-yard touchdown on Michigan's opening drive, the Wolverines' first first-quarter score of any kind this season. It came after the defense forced a three-and-out on San Diego State's first offensive possession.
That also was a first.
Michigan wasted little time on its second drive, with Robinson jetting to a 53-yard touchdown on what appeared to be an option play to the right. There was no question which option Robinson should take, though.
"We've been working on (that play) a lot," Robinson said. "I wanted to give the ball to Vince (Smith), but I seen the opening, so I was like, 'All right, let's go.'"
He wasn't close to being touched en route to the end zone.
Robinson added a third touchdown on a 1-yard run with 31 seconds left in the first half.
He finished with 21 rushes for a season-high 200 yards. It was his third career 200-yard rushing game.
Robinson was used out of the shotgun on more than 70 percent of Michigan's plays.
For as good as he was on the ground, though, Robinson continues to struggle in the passing game. He finished 8-of-17 passing for 93 yards and two interceptions. He remains below 50-percent accuracy on the season.
"I'm not too mad at myself because my teammates, they keep telling me I'm going to be all right, keep fighting," Robinson said. "They got my back and I know they do."
The Michigan defense also was sharp in the first half, when it limited San Diego State to 164 yards and, most importantly, zero points. The front seven was particularly impressive, forcing Aztecs quarterback Ryan Lindley into several hurried -- and errant -- throws.
The Aztecs (3-1) came into the matchup averaging 38 points per game, which was 26th in the country. They didn't come close to that against Michigan.
San Diego State running back Ronnie Hillman rushed for 109 yards. He entered the game second in the country with 167 rushing yards per game.
Lindley, who was among the nation's top-10 passers last year, was pestered often by Michigan's defensive line, which had its best game of the year. Lindley finished 23-of-48 passing for 253 yards and one interception.
"We were getting really good pressure up the middle with Ryan Van Bergen, Mike Martin, and I think that just rattled him a bit," defensive end Craig Roh said. "He didn't perform as well as we had expected. He's a real good quarterback, but we just got pressure on him and got him rattled a bit."
Roh, who was quiet the first two games of the season, posted another good game. He had two tackles for loss, including a sack that forced a fumble.
"I subbed in for Jibreel Black, just bull-rushed and then ripped outside," Roh said. "Got the ball, and it was a good feeling. It's always a good feeling when you get a sack."
The Wolverines, outstanding on turnover margin all season, forced three. Redshirt freshman linebacker Jake Ryan recovered two fumbles and sophomore safety Thomas Gordon recovered a third.
But they also committed four of their own, including three in the third quarter, when Robinson had two interceptions and sophomore tailback Stephen Hopkins lost a fumble.
Sophomore place-kicker Brendan Gibbons also missed a 40-yard field-goal attempt in what proved to be a disastrous third quarter.
San Diego finally broke through with a touchdown late in the third to close within 21-7. By that time, the Michigan defense hadn't given up a score since allowing a field goal on the first play of the second quarter against Eastern Michigan.
The Aztecs then forced Michigan to punt deep in its own territory, and a nice return gave them the ball at the 50-yard line trailing 21-7 with 13 minutes left and the momentum of the game beginning to shift.
But Michigan's defense again came up big, forcing a three-and-out.
A 7-yard touchdown run by tailback Smith made it 28-7 with 6:29 remaining to all-but-seal the win for Michigan.
Pete Cunningham contributed to this report. Kyle Meinke covers Michigan football for AnnArbor.com. He can be reached at 734-623-2588, by email at kylemeinke@annarbor.com and followed on Twitter @kmeinke.