Posted on
Thu, Dec 23, 2010 : 5:51 p.m.
Desmond Howard believes Gator Bowl outcome could affect Michigan football coach Rich Rodriguez's job status
By Pete Bigelow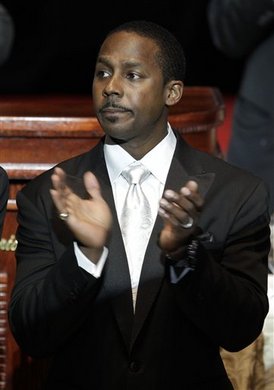 Associated Press
Rich Rodriguez's job status may hinge on the outcome of the Gator Bowl.
At least that's how ESPN analyst and former Michigan football player Desmond Howard believes the Wolverines tenuous head-coaching situation could shake out.
After two lopsided losses to Wisconsin and Ohio State in the final two games of the regular season, Howard thinks Michigan needs to close on an upbeat note to save Rodriguez's job.
"I think they will have their hands full with Mississippi State, and it's a good way to see where they are as a team and how they will end the season," Howard said Wednesday.
"I'm willing to see what transpires in the Gator Bowl, and then you assess everyone from there." Howard won the Heisman Trophy as a player at Michigan in 1991, and is one of the program's most notable alums.
He was noncommittal on whether he thought Rodriguez deserved to remain Michigan's coach, but said three years should be enough time to build a successful program.
Howard's colleague at ESPN, Mike Bellotti, indicated more patience was needed. Bellotti, former coach and athletic director at Oregon, said a football coach needs four years to implement a program.
"I would say it's got to be a minimum of four years," said Bellotti, who spoke with Howard on an ESPN teleconference discussing upcoming bowl matchups.
"Unfortunately, the patience or tolerance level is becoming like the pros. They anticipate you do it sooner. … Look at Rich, he's shown improvement with the offense at Michigan. But they have to improve on defense or the improvements won't matter. I think it takes four years for a system and personnel to match."
Rodriguez is one game shy of his third complete season at Michigan. In that time, he has compiled a 15-21 overall record. The Gator Bowl marks the Wolverines' first postseason appearance under Rodriguez.
Michigan athletic director Dave Brandon has repeatedly said he would not complete his evaluation of Rodriguez until after the Gator Bowl. The Wolverines (7-5) face Mississippi State in that game on New Year's Day.
Howard acknowledged that Rodriguez had embarked on a seismic shift in the culture of the tradition-rich Michigan football program.
"He pretty much changed the whole culture of Michigan football," Howard said.
Offering a detailed example of how a small change affects the whole program, he said, "I think they gutted the whole weight room because they needed a strength-and-conditioning system that was in line with their style of play. The training regimen has to match what they need on the field. (But) for me, I would say three years."
Bellotti said there would be numerous factors for an athletic director in weighing whether to make a decision regarding a coach's future immediately following the regular season or waiting until after a bowl game.
No matter when an announcement comes for Michigan, he believes Rodriguez had earned a fourth season in Ann Arbor.
"I think they've made significant progress, certainly on the offensive side of the ball," Bellotti said. "They have a lot to play for. Eight wins and a bowl game, I think that's hard to fire a coach. But not as hard as it used to be."
Pete Bigelow covers the Michigan football team for AnnArbor.com. He can be reached at (734) 623-2551, via e-mail at petebigelow@annarbor.com and followed on Twitter @PeterCBigelow.