Posted on
Sat, Jul 16, 2011 : 10:52 p.m.
Desmond Howard enters College Football Hall of Fame 'as a Michigan football player'
By Kyle Meinke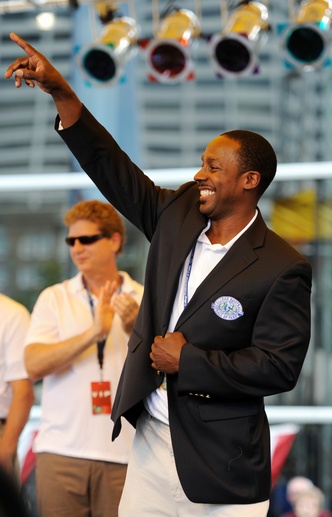 Joe Raymond | AP Photo
SOUTH BEND, Ind. -- Induction into the College Football Hall of Fame is an individual achievement.
Desmond Howard played in a system that emphasized the team, the team, the team.
The two polars met Saturday as the former Michigan receiver and kick returner headlined a class of 16 players and four coaches who were enshrined at the Hall of Fame induction ceremony in South Bend, Ind.
"You got to understand, I won the Heisman within the rhythm of our offense," said Howard, who won the award as college football's best player in 1991.
"We had guys who could tote the pill and we toted it, we just didn't throw the ball to 21. We tried to run the ball -- that was still our primary goal."
Howard's mother quipped to the crowd: "People wanted to know how I felt about him winning the Heisman, and I didn't even know what the Heisman was."
She was part of a large contingent for Howard, a group that included Michigan athletic director Dave Brandon and booster Al Glick. Howard's wife, children and two brothers also attended the ceremony, which ended with Howard's on-stage interview.
"The way I look at it, I'm going in as a Michigan football player," said Howard, who is the 35th person with Michigan ties to be inducted into the Hall of Fame. "Any time you can get a Michigan football player into the College Football Hall of Fame, you take it."
On the day he earned his sport's highest honor, Howard harkened back to the day he drove with his father from Cleveland to Ann Arbor -- he was an Ohio man before he ever was a Michigan Man -- for the start of his college career.
"My mind was racing," Howard said, laughing as he recalled the cocktail of emotion that gripped him on that journey north. "(I was thinking about making) a whole new journey into a strange place, a lot of new faces, and of course certain expectations, especially from the people from where I came -- Ohio."
Rest easy: Things turned out all right for No. 21.
Howard played every game from 1989-91, finishing with 134 catches for 2,145 yards and 32 touchdowns. He also scored twice on kickoffs, twice on runs and once on a punt return against Ohio State that punctuated his Heisman Trophy campaign in 1991.
He famously struck the Heisman pose in the end zone after the play as broadcaster Keith Jackson exclaimed "Hello Heisman" to a national audience.
"Everyone wants to spread people out and try to get mismatches out there in space (nowadays)," Howard said. "When I played -- if I did that, can you imagine the numbers?"
Howard eventually earned the Heisman Trophy that season by what was then a record margin -- a remarkable feat considering he entered school as a running back.
On the third day of Howard's freshman training camp, former Michigan coaches Bo Schembechler and Gary Moeller asked Howard to make the position change.
He obliged -- not that he had much choice, playing for, as Schembechler once put it, "the team, the team, the team."
"Coach Moeller, coach Schembechler sat me down and said, 'We think you could help us quicker and more effectively at wideout,'" Howard recalled. "I said 'OK, I'll be a wideout tomorrow morning.'"
It was the first of several hurdles for Howard.
"There's a lot of peaks and valleys, and people don't understand that," he said. "You go up to Michigan and these guys, they struggle, but people have never heard the stories.
"I was in Michigan about two months ago, and I sat down with Anthony Carter, and he was telling me stories about his struggles when he first got there his freshman year," Howard continued, referring to the former Michigan football great who helped begin the program's tradition of doling out the No. 1 jersey to its top receiver.
"I had never heard these stories before. I didn't know anything about this. Anthony Carter actually flew back home his freshman year back in camp. … There's peaks and valleys. So what happens is, the peaks get exposed and magnified, and get more attention, because that's what people know about.
"But there's a lot of trials and tribulations that got me to the point where I am today, and I'm thankful for it."
It is on that note that "Hello Heisman" said hello to immortality.
Kyle Meinke covers Michigan football for AnnArbor.com. He can be reached at 734-623-2588, by email at kylemeinke@annarbor.com and followed on Twitter @kmeinke.