Posted on
Tue, Jun 12, 2012 : 5:59 a.m.
Despite incidents, Michigan football players won't be banned from Twitter
By Kyle Meinke
It has been a turbulent offseason for the Michigan football team.
Not on the field. Nor in the classroom.
On Twitter.
It started shortly after signing day, when explicit tweets posted by recruits and prospective recruits gained traction online. They included racially and sexually charged content.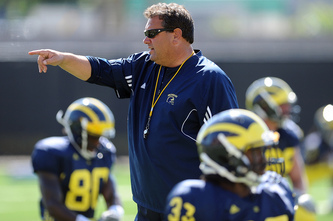 In March, Roy Roundtree and Kenny Demens committed secondary NCAA violations by tweeting at 2013 linebacker recruit Mike McCray, who had committed to the Wolverines earlier in the day.
Last month, 2013 offensive line commit Logan Tuley-Tillman received death threats from Ohio State fans on Twitter after he posted a photo of himself burning mail sent by the Buckeyes.
Yet, despite the frequent dust-ups, Michigan coach Brady Hoke continues to say he has no intention of banning his players from using the social media site.
"You can ban, then are you teaching guys responsibility just because you're banning?" Hoke said last week. "What's the lesson? We want them to grow and understand, and (the media) know more than I do with Twitter and all that stuff. I think there's a maturity that goes along with it."
Hoke is not big into technology himself -- he claims to have never sent an email -- and doesn't use social media. But he understands its place in an increasingly digital world, and wants his players to engage in it.
In fact, he told AnnArbor.com earlier this year that he favors reform to the NCAA's rules that govern social media. And by that, he means a loosening of the rules.
Hoke knows blips will occur along the way, but prefers to use them as learning experiences.
"It happened so quick, you've got kids whose situations may not have been as nice as mine as a young adult growing up who aren't getting coached on the use of Twitter," he said. "We try to educate our guys all the time once those guys sign."
Cases such as Tuley-Tillman's, though, are a little more difficult to handle because he has yet to sign a letter of intent to play for Michigan. NCAA rules restrict when coaches can contact unsigned players.
The 2012 class is active on Twitter, and the 2013 class even more so. Quarterback Shane Morris (@SMorris_12), who has yet to start his senior year of high school, already has more than 12,700 followers.
That eclipses every current player besides Roundtree and quarterbacks Denard Robinson and Devin Gardner.
"The guys who are not signed yet, obviously, it's a little harder to some degree," Hoke said. "You just tell them they're representing and honoring their name. Your name carries a lot of weight when you look at your family, and the people that name represents."
Kyle Meinke covers Michigan football for AnnArbor.com. He can be reached at 734-623-2588, by email at kylemeinke@annarbor.com and followed on Twitter @kmeinke.