Posted on
Sat, Nov 13, 2010 : 6:01 p.m.
Despite 5 turnovers, Michigan football team beats Purdue
By Pete Bigelow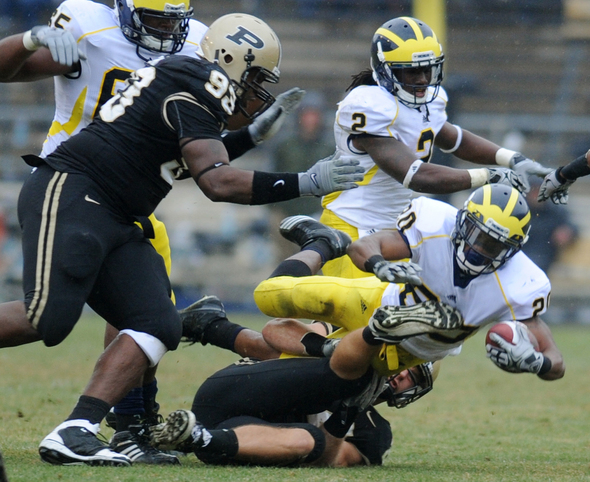 Melanie Maxwell | AnnArbor.com
WEST LAFAYETTE, Ind. - With the best season of Rich Rodriguez's tenure at Michigan in hand, the possibilities started dancing through Darryl Stonum's mind.
"We've got seven wins now," he said after Michigan patched together Saturday's 27-16 win over Purdue. "Hopefully next week, we're going to get number eight against Wisconsin, and then nine, and we'll go to a real good bowl game.
"We want to play somewhere warm."
That desire grew more forceful during Saturday's game, played amid a chilly, intermittent rain that curtailed whatever plan both offensive coordinators had assembled.
Michigan and Purdue combined for 10 turnovers on a sloppy field. Almost unbelievably, it was the second consecutive week the Wolverines had committed five turnovers - and won.
Afterward, the Wolverines could only shake their heads.
"I felt like I was playing on a high school field," said quarterback Tate Forcier, who traded series with Denard Robinson throughout the second half.
"It was horrible," Stonum said. "Horrible conditions."
With Robinson misfiring, receivers dropping wet balls and players slipping and sliding at Ross-Ade Stadium, it was left to Michigan's beleaguered defense to beat Purdue.
Melanie Maxwell | AnnArbor.com
Yes, the same Michigan defense that entered the game ranked worst in the Big Ten in scoring defense and the same one that lost its starting cornerbacks to season-ending injuries and the same one that has played seven true freshmen in key roles throughout the season.
Yes, the same unit that surrendered a school-record 65 points last week against Illinois, and the same one that saw its two best remaining players, Mike Martin and Jonas Mouton, scratches at the last minute Saturday.
Yes, that defense.
Cam Gordon kicked off the unit's signature performance by returning a fumble 58 yards for a touchdown for the game's first score in the opening minutes.
Purdue converted just two of 17 third-down attempts, by far and away the Wolverines' best of the season. Michigan (7-3 overall, 3-3 Big Ten) registered three sacks and eight tackles for loss.
The defensive unit did not allow a touchdown for the first time since a win over Delaware State on Oct. 17, 2009.
Michigan's high-flying offense compensated for the struggling defense in four other victories this season. Saturday, the defense returned the favor.
"Thank you defense," Michigan tight end Kevin Koger tweeted after the game.
"This is just what the doctor ordered," defensive back coach Tony Gibson said. "We needed to have a good win like this and have our kids have some confidence coming out of a game, not always having Denard bail us out to win the game."
On the contrary Saturday, Robinson was the one who needed the help. Although he broke John Navarre's 2003 school record for all-purpose yards in a single season, he accounted for four of Michigan's five turnovers.
Purdue's Ricardo Allen returned one of his two interceptions for a 94-yard touchdown in the second quarter that narrowed Michigan's lead to 14-10.
Michigan capitalized on a fumbled Purdue punt return early in the third quarter. Two plays later, Vincent Smith's 19-yard touchdown run extended Michigan's lead to 20-13.
After that, it was largely one step forward, one step back.
The teams traded turnovers at an almost-comical pace.
Michigan punter Will Hagerup booted a 72-yard punt in the fourth quarter, the team's longest punt since 1987, but kicker Seth Broekhuizen missed a 42-yard field goal and an extra point.
Jeremy Gallon signaled for a fair catch, but then drew a flag for attempting to advance the ball. Late in the third quarter, Taylor Lewan drew a 15-yard clipping call followed by a Darryl Stonum facemask that brought up the seldom-seen 2nd and 38.
It wasn't until James Rogers' second interception of the day set the stage for Stephen Hopkins' 3-yard TD run with 1:58 left in the game that Michigan finally relaxed.
The victory marked Rodriguez's first in three tries against Purdue and its prickly coaching staff. No heated exchanges occurred during this year's postgame handshake, but last year's interaction between Rodriguez and Danny Hope was on the minds' of players.
"It's payback, yeah it is," linebacker Kenny Demens said.
Before the game, coaches showed the team highlights from previous Michigan wins over Purdue, assembling a reel from games coached by Lloyd Carr and Bo Schembechler.
"They used to come out here and play hard, play with passion and lay out some big hits," Stonum said. "Those old guys, they hit. That fired us up, and we wanted to come out here and prove we can hit too."
They did exactly that, then found themselves dreaming of some place warm. On Saturday, after a sloppy game amid the rain, the team bus sufficed.
Pete Bigelow can be reached at (734) 623-2556 or e-mailed at petebigelow@annarbor.com. Follow him on Twitter @PeterCBigelow.