Posted on
Sat, Dec 18, 2010 : 5:11 p.m.
Devin Gardner seeks medical redshirt, Big Ten division names and injury report
By Pete Bigelow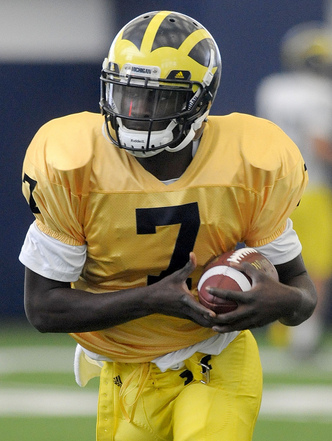 Angela J. Cesere | AnnArbor.com
Michigan will likely seek a medical redshirt from the NCAA for freshman quarterback Devin Gardner following the team's bowl game.
Sidelined by a lower-back injury for most of the season, Gardner played in three games for the Wolverines early on.
Per NCAA rules, Gardner is eligible for a medical redshirt because he didn't play in more than four of the first six games of the season. The NCAA must still grant the petition.
"His back has been better, and he's been able to do most of the stuff today," Michigan coach Rich Rodriguez said Saturday.
Should a medical redshirt be granted, Gardner would, in theory, have two years to hold the starting quarterback job. Denard Robinson is penciled in as the starter through the 2012 season.
With a granted medical redshirt, Gardner would be eligible to play through the 2014 season.
Division naming debacle
How enveloped has Rodriguez been by the Wolverines' bowl preparations and recruiting? He hadn't heard much about the fuss over the "Legends" and "Leaders" names given to the Big Ten's new divisions.
"I didn't even realize there was, I don't want to say controversy, but that much talk about it," he said Saturday.
The Big Ten elicited an overwhelmingly negative reaction with the division names and a Honolulu blue new logo. On Friday, commissioner Jim Delany conceded the conference may re-examine the names.
Rodriguez sidestepped the question of what he thought about the names, but had confidence the conference would get it right.
"Jim and the rest of the folks at the Big Ten Conference office, they know what they're doing," he said. "They'll get it right."
Welcome back
Michigan opened Saturday's practice to media members and visitors Saturday, the first time an open practice has been conducted in more than a year.
Visitors got to watch the team's early preparations for the Gator Bowl, in which the Wolverines will face Mississippi State on New Year's Day.
Glimpses from the team? Jeremy Gallon played Mississippi State junior quarterback Chris Relf on Michigan's scout team. Receiver Je'Ron Stokes was a non-contact participant in the drills, as were safety Ray Vinopal and receiver Martavious Odoms.
The team's injury situation hasn't changed much in recent weeks.
Players who were hurt, but able to play, against Ohio State are expected to be healthy against the Bulldogs. That includes: receiver Darryl Stonum (ankle), defensive tackle Mike Martin (ankles) and Stokes.
Running back Teric Jones and Odoms are not expected to play in the Gator Bowl.
Gator Bowl plans
The Wolverines travel to Jacksonville for the Gator Bowl. Michigan's team charter will depart on Dec. 26, and the team will practice that night.
Rodriguez had hoped to depart on Christmas night, but the Washington Redskins occupied the team's hotel that night.
This and that
Rodriguez said Will Campbell's move to guard is now permanent. He's pleased with his development. … Coaches treated Saturday's practice like a spring game, and used it to evaluate some of the team's first-and-second-year player. One player that jumped out was safety/outside linebacker Josh Furman, who redshirted in 2010.
Pete Bigelow covers the Michigan football team for AnnArbor.com. He can be reached at 734-623-2551, via email at petebigelow@annarbor.com and followed on Twitter @PeterCBigelow.