Posted on
Mon, Apr 16, 2012 : 5:59 a.m.
Denard Robinson's solid camp allows Devin Gardner and Russell Bellomy to get QB reps in Michigan spring game
By Kyle Meinke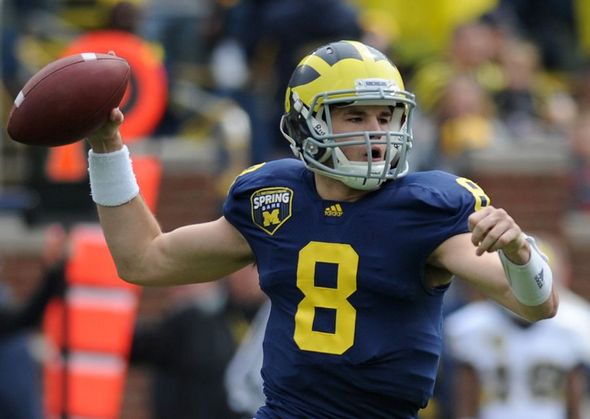 Angela J. Cesere | AnnArbor.com
Senior quarterback Denard Robinson has started the past two seasons for the Michigan football team, and played a year in the Wolverines' spread-West Coast system.
He has some kinks to work out, but also is a proven commodity.
Devin Gardner is not. Neither is Russell Bellomy.
So, the Wolverines' coaching staff decided to use their 60-play spring game Saturday to allow Gardner and Bellomy a chance to show their stuff during scrimmage-like conditions in front of an estimated 25,000 fans at Michigan Stadium.
Robinson played only the first series, completing 2-of-3 passes for 13 yards against the first-unit defense. Gardner went the rest of the way with the starters, and it was a rocky audition.
He was erratic, completing only 2-of-7 passes, and also mistake prone. He threw one pick to cornerback Blake Countess and muffed two exchanges with new center Ricky Barnum.
Offensive coordinator Al Borges said the performance was not indicative of his overall camp performance.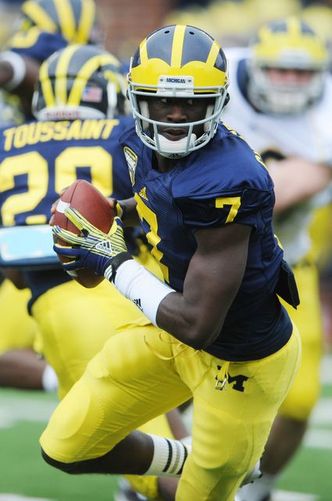 Melanie Maxwell | AnnArbor.com
"Devin, in particular, has had an outstanding spring," Borges said. "He's really done some very nice things. He's developed in the position more and more.
"He needs more time in situations like this, where there are a lot of people watching and the pressure is on."
Robinson echoed that sentiment, noting Gardner had a strong camp at quarterback and that this was the worst he has seen him all spring.
"He just has to stay focused and keep his head up and keep doing what he does," Robinson said. "He's one of the guys that pushes me all the time and helps me out. He just had a late throw today on a corner route (on the pick), and he knows that. He told me as soon as he got off the field."
For all his struggles, Gardner still flashed the athleticism that made him the nation's No. 1 dual-threat quarterback coming out of high school in 2010. He rushed nine times for a scrimmage-best 41 yards, including one impressive 16-yard burst around the right side.
Hoke has acknowledged the Wolverines experimented with Gardner at receiver this spring, which could take better advantage of that athleticism, but he did not line up there in the public scrimmage.
Bellomy, on the other hand, was the day's most impressive quarterback. Working with the the second-team offense against the second-team defense, the redshirt freshman was 6-of-9 passing for 36 yards and showcased a bit of elusiveness in the running game.
His arm strength still needs work, but he moved the offense capably. Michigan isn't asking for much more from him at this point.
"Russ has been steady and solid," Borges said. "When the guy is open, he hits him. He makes very few mistakes. He's just one of those kinds of guys. He's very athletic. He can get himself out of some messes. He's a solid guy."
Hoke quickly dispelled any notion of a competition for the backup quarterback spot, noting Gardner remains the No. 2 over Bellomy despite Saturday's results.
As for Robinson, he hardly broke a sweat in the spring game. That makes it difficult to read just how much progress he made in camp, although the fact Michigan felt he didn't need reps in the scrimmage likely affirms he's in a good place.
Robinson said he's doing a better job of not throwing off his back foot, noting he's done it only once all spring. That helped to curtail his interceptions after throwing 15 last season.
"The two things that have gone away in Denard's game are falling off throws, or throwing off your back foot," Borges said. "No. 2 is indiscriminate decision making. He had very, very few interceptions this spring."
Borges said Robinson threw four times as many picks last spring than this one.
"That (improvement is) not unusual, now, for a guy that understands the offense," Borges said. "I said it last year: Our passing game was a drastic disparity from what they had done here in the past, and there were going to be growing pains.
"Now, we've got to take the step into the fall. It's all irrelevant if you don't. But his awareness of our passing game has enhanced immeasurably."
Kyle Meinke covers Michigan football for AnnArbor.com. He can be reached at 734-623-2588, by email at kylemeinke@annarbor.com and followed on Twitter @kmeinke.