Posted on
Fri, Mar 12, 2010 : 1:10 p.m.
Donovan Warren borrows shoes, takes part in Michigan's pro day
By Dave Birkett
Donovan Warren had no intention of running for NFL scouts at Michigan's pro day, but his competitive nature got the best of him.
Still bothered by a right ankle injury that caused him to pull out of the NFL combine last month, Warren borrowed a pair of teammate Stevie Brown's cleats Friday and said he clocked two 40-yard dashes in the mid-4.5 range.
Warren ran a disappointing 40 at the combine after spraining the same ankle he originally hurt as a sophomore during a February workout.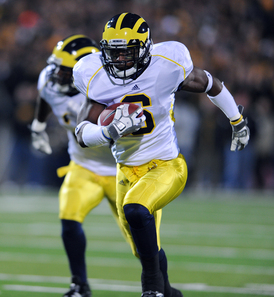 "I was just going to come and meet with the scouts, just the competitor in me just came out," Warren said. "Saw the workout and decided I was going to try to go at it."
Warren aggravated his ankle during a shuttle drill Friday and did not participate in position drills. He also sat out position drills at the combine.
He said he'll join Brandon Graham, who missed Michigan's pro day with a hamstring injury, in a private workout for scouts April 8 at Michigan.
Warren said he doesn't know if he'll need surgery, but disputed suggestions he's hurt his draft stock in recent weeks.
"I feel like at the combine, I don't know if I should have ran hurt like I did," Warren said. "I went out there and competed, but at the same time I know I helped myself in the interview room, getting the teams to know me a lot better as a person and just knowing that I'm a football player, I'm very smart. I feel like I helped myself definitely in interviews."
At the combine, Warren said he had about 15 formal interviews, including sessions with the Jets, Vikings and Seahawks, where he spent time with new coach Pete Carroll.
"He was the (USC) coach when they recruited me coming out of high school so I haven't really seen him since high school," Warren said. "He just told me he might not miss out on me this time, so that was real exciting.
"It was a real shock just going in some of those meetings and just sitting down with guys that you see on TV. It was just reality that you were just sitting in front of them, being asked questions about yourself and about the game. Rex Ryan with the Jets, that was a real good meeting."
Warren said several NFL teams asked him about the NCAA allegations facing Michigan for excessive practice time.
"I just said I didn't feel like we were doing anything wrong," Warren said. "I felt like we was doing everything by the book and guys were just out there working hard."
Dave Birkett covers University of Michigan football for AnnArbor.com. He can be reached by phone at 734-623-2552 or by e-mail at davidbirkett@annarbor.com. Follow him on Twitter @davebirkett.