Posted on
Sat, Sep 17, 2011 : 5:36 p.m.
Missed opportunities stick out to Eastern coach Ron English after 31-3 loss to Michigan
By Pete Cunningham
A Kody Fulkerson 21-yard field goal on the opening play of the second quarter gave Eastern Michigan a 3-0 lead over Michigan, the Eagles' first lead in the 10-game series between the teams.
That fact didn't make Eastern head coach Ron English smile. Little does.
The fact that Fulkerson wasn't adding to a lead by that point was what stood out to the former Michigan defensive coordinator after Eastern's 31-3 loss on Saturday.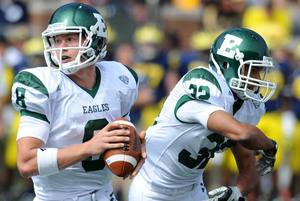 Angela J. Cesere | AnnArbor.com
Eastern had out-gained Michigan 122-32 in yardage at that point, but a fumble in Michigan territory on a promising opening drive and failing to score on fourth-and goal from the half-yard line on another were opportunities English said his team could not afford to miss.
Not being able to punch it in really irked English.
"You gotta score from the one-inch line," he said. "If you can't score from the half-yard line, you're going to have a hard time winning, so I think that hurt us."
An interception in the end zone on a trick play on Eastern's next possession from backup quarterback Tyler Benz -- who lined up at wide receiver and caught a pass from behind the line of scrimmage before airing it out -- was another play that stood out to English.
It was first down, Eastern was working with a short field, and Benz's intended receiver was draped in double coverage. Thomas Gordon made a one-handed interception, and Michigan drove 97 yards and took the lead for good.
"I wish the quarterback that threw it had ran it like he was instructed to and not thrown it into double coverage, that's what I wish," English said. "Tyler Benz will learn and grow from that. We're going to need a play like that."
And as much as his team prepared for and expected big plays out of Michigan quarterback Denard Robinson, when they began happening, he said it frustrated his players.
"I felt like (Robinson) took a bit of our stinger away from us," English said. "I think as much as you say to a point, 'he's going to make plays,' I think they can be demoralizing, and I think some of that happened today."
Though the big plays from Robinson hurt Eastern later on, when freshman cornerback Darius Scott intercepted Robinson on Michigan's first possession, he said the attitude on the sidelines wasn't just to stay with the Wolverines, but to win.
"We came in thinking we could win. We had a chance, but a lot of stuff happened, a lot of mistakes," Scott said. "We gotta go back to the drawing board, see what happened."
Green and White
Eastern Michigan began the game without its second leading rusher, Dominique Sherrer, but didn't miss him early on as Javonti Greene had 20 carries for 75 yards in the first half.
Greene touched the ball just once in the second half as Dominique White carried the ball seven times for 34 yards.
English said Sheerer, injured against Alabama State last week, is week-to-week and that going away from Greene was not injury based.
"I really wanted to see some other guys run the ball," English said. "We're going to need guys as we go forward, and I wanted to see some other guys run the ball."
English didn't single out Greene, but said he wanted to see more north-south running and less juking in the backfield and White delivered in that regard.
"I think Domo came in there and ran the ball hard. You have to be willing to take the twos and three and not do all that stuff," English said, moving his arms side to side when saying 'that'.
"I think Michigan improved, obviously. But I know we can work have to be willing to get those tough yards."
Where it all began
English thought junior quarterback Alex Gillett played his best game of the year in his second game in Michigan Stadium. Gillett has been the starter for Eastern since Andy Schmitt injured his knee in 45-17 loss in 2009.
The numbers didn't back up English's assessment, Gillett was 3-of-5 passing for 29 yards and didn't complete a pass in the second half. He also rushed 11 times for 67 yards. In 2009, Schmitt finished 13-of-22 passing for 97 yards.
"This was the best he's played. I don't know stat-wise if it's the best, but I know from a command standpoint and all those things, I think this was the best game that he's played," English said.
Full backfield
Eastern Michigan moved the ball with ease against the Michigan defense in the first quarter, operating mostly out of a single-back offense and rushing for 122 yards. The Eagles tripled their manpower around the goal line, adding not only a fullback, but inserting starting left guard Corey Watman as a lead blocker on second and goal from the Michigan 3-yard line.
The strategy didn't yield positive results. On three straight running plays up the middle, Eastern gained just 2 yards and turned the ball over on downs on the 1-yard line.
"We are a run first, I mean that's the reality of it, so we need to find different wrinkles and that was one of them," English said.
Defensive progress
Eastern held Michigan to consecutive three-and-outs in the first and second quarter. Eastern had zero three and outs on Michigan in their last meeting, a 45-17 Michigan win in 2009.
Local flavor
Former Ann Arbor Father Gabriel Richard kicker Mike Yocum handled kickoffs for Eastern Michigan for the second week in a row. Yocum is a walk-on redshirt freshman and averaged 66.5 yards on his two kickoffs.
Contact Pete Cunningham at petercunningham@annarbor.com or by phone at 734-623-2561. Follow him on Twitter @petcunningham.