Posted on
Sat, Sep 17, 2011 : 11:38 a.m.
Eastern Michigan at Michigan football updates
By Jim Knight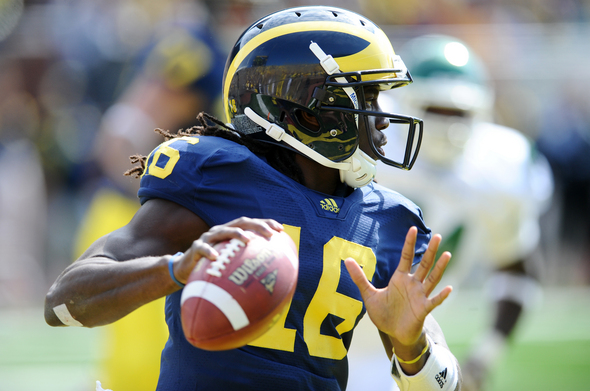 Melanie Maxwell | AnnArbor.com
Fourth quarter Michigan 31, Eastern Michigan 3: Brendan Gibbons kicked a 21-yard field goal, his first of the season. Michigan drove 84 yards in 13 plays.
Third quarter
Michigan 28, Eastern Michigan 3: Denard Robinson hit Drew Dileo with a 19-yard touchdown pass as Michigan continued to pull away from the Eagles. Michigan went 75 yards in 11 plays. Michigan found its passing game on the drive as Robinson hit Jeremy Gallon for 18 yards early in the drive before find Dileo to end it. Robinson is 5-of-14 passing for 59 yards, two touchdowns and one interception. Michigan has scored on four consecutive possessions.
Michigan 21, Eastern Michigan 3: Fitz Toussaint scored on a 1-yard run as Michigan opened second-half action with an 83-yard, 13-play drive. All 83 yards came on the ground.
Halftime notes
It's a ground game: Eastern has 29 yards passing; Michigan has 21. Robinson has 131 yards on 14 carries and Fitz Toussaint has 28 yards on six carries for the Wolverines. Vincent Smith had one carry and it was for his big gain of 38. Javonti Greene leads Eastern with 75 yards on 20 carries and EMU quarterback has run for 61 yards.
Second quarter
Michigan 14, Eastern Michigan 3: Denard Robinson ran up the middle for an 11-yard touchdown run. Robinson also had carries for 12, 12 and 3 yards in the six-play, 87-yard drive. Vincent Smith broke free for a 38-yard run on the third play of the drive.
Michigan 7, Eastern Michigan 3: Denard Robinson hit tight end Kevin Koger with a 9-yard touchdown pass, capping a 97-yard drive that started when Thomas Gordon intercepted a pass from Tyler Benz on the 3-yard line. Robinson had a 53-yard run on the first play of the drive.
Eastern Michigan 3, Michigan 0: Kody Fulkerson kicked a 21-yard field goal to start the second quarter. Eastern drove 20 yards in seven plays.
First quarter
First-quarter stats: EMU dominated the first quarter with 140 total yards, 108 more than Michigan. Eastern had the ball for 10 minutes, 35 seconds.
Goal-line stand: Eastern drove 72 yards and had its drive stalled at the Michigan 1-yard line when Jordan Kovacs and Thomas Gordon stopped EMU running back Javonti Greene on fourth down.
Fumble and an interception: Michigan safety Thomas Gordon recovered a fumble by Eastern running back Javonti Greene, ending a strong opening drive by the Eagles. Eastern drove 55 yards before the fumble gave Michigan the ball on its own 35-yard line. Seven plays later, Michigan quarterback Denard Robinson's pass was intercepted by Kinsman Thomas at the EMU 34-yard line.
Opening kick: Eastern opened the game with a penalty on the kickoff and started the game on its own 10-yard line.
Pregame
The Michigan football team can start the season 3-0 for the third consecutive season with a victory today against Washtenaw County neighbor Eastern Michigan.
Michigan is 9-0 against Eastern and is a 29-point favorite today. Eastern, also 2-0, hasn't had a 3-0 start since 1989.
Ready to go? Michigan linebacker Cam Gordon was dressed in warmups and looked prepared to play for the first time this season. Cornerback Troy Woolfolk warmed up with a cast on his right hand and his ankles appeared to be wrapped.
Not playing: Sophomore cornerback Terrence Talbott is not on the dressed list for Michigan.
We'll update this file throughout the game. In the meantime:
Join us: Check out our live chat
Game info and more: Check out our mega guide to the game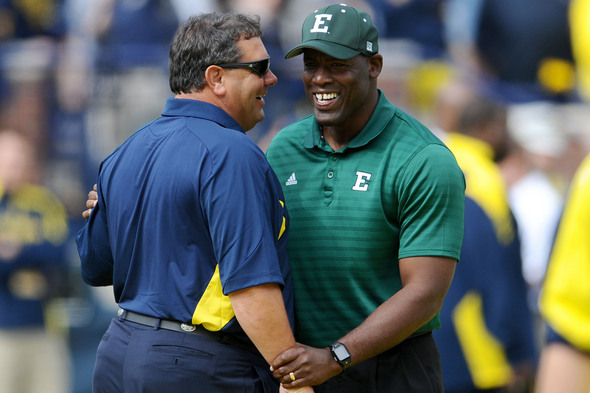 Melanie Maxwell | AnnArbor.com