Posted on
Wed, Mar 17, 2010 : 5:19 p.m.
Everything you need to know about Michigan spring football
By AnnArbor.com Staff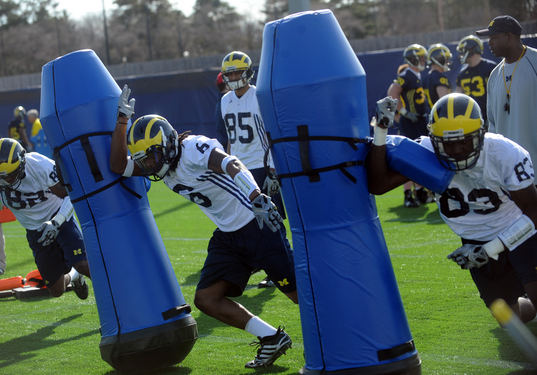 Melanie Maxwell | AnnArbor.com
If you haven't paid much attention to the Michigan football team since the Wolverines' season-ending loss against Ohio State last November, here's what you need to know to get caught up for spring practices, which started Tuesday afternoon:
THE BASICS
Offensive starters lost/returning:Â 4/7
Defensive starters lost/returning:Â 3/8
Offensive starters lost:Â Brandon Minor, RB; David Moosman, C/G; Greg Mathews, WR; Mark Ortmann, OT.
Defensive starters lost:Â Stevie Brown, LB; Donovan Warren, CB; Brandon Graham, DE.

KEY DATES
March 16: Practice opens
March 20: First day of full pads
April 8-10: Coaches clinic
April 17: Spring Game, 1 p.m. Here's what you need to know.
LATEST NEWS FROM ANNARBOR.COM
LATEST NEWS FROM ELSEWHERE
AROUND THE BIG TEN
2010 MICHIGAN FOOTBALL SCHEDULE
Sept. 4     Connecticut     
Sept. 11   at Notre Dame   
Sept. 18   Massachusetts   
Sept. 25   Bowling Green  
Oct. 2      at Indiana            
Oct. 9      Michigan State   
Oct. 16    Iowa                 
Oct. 30    at Penn State  
Nov. 6     Illinois  
Nov. 13   at Purdue              
Nov. 20 Â  Wisconsin
Nov. 27 Â  at Ohio State
ON TWITTER
Follow AnnArbor.com beat writer Dave Birkett: @davebirkett
Follow the official Michigan feed at: @michigan_fball
Join the conversation below by using the hashtag #Wolverines