Posted on
Mon, Dec 19, 2011 : 11:56 a.m.
Ex-Ann Arbor FBI agent on Joe Paterno: Bo Schembechler would have done more
By AnnArbor.com Staff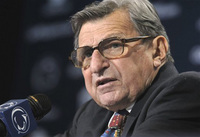 Associated Press
What would
Bo Schembechler
have done?
Ann Arbor resident Greg Stejskal, an FBI agent for 31 years, is convinced the former Michigan football coach would have handled the accusation of former Penn State assistant football coach Jerry Sandusky sexually abusing a boy more thoroughly than longtime coach Joe Paterno.
Stejskal feels the hypothetical question is important. From his column at ticklethewire.com, a law-enforcement news and views site, he writes:
I don't think it can be overstated the prestige and sheer clout that Paterno has at Penn State, but for whatever reason, he apparently never used any of that to further pursue the Sandusky matter or to inquire about the welfare of the alleged victims.
Stejskal then notes how Schembechler dealt with a 1987 probe of two sports agents who had ties to organized crime and were recruiting college players, including two at Michigan. More from Stejskal:
Michigan would have been just one of many major football programs victimized by (Norby) Walters and (Lloyd) Bloom. But that wasn't Bo. Damage control doesn't mean hiding from the truth. It means taking responsibility for your actions and trying to rectify the mistakes.