Posted on
Wed, Aug 1, 2012 : 12:30 p.m.
Ex-coach Lloyd Carr discusses Michigan's early success, rising expectations under Brady Hoke
By Kyle Meinke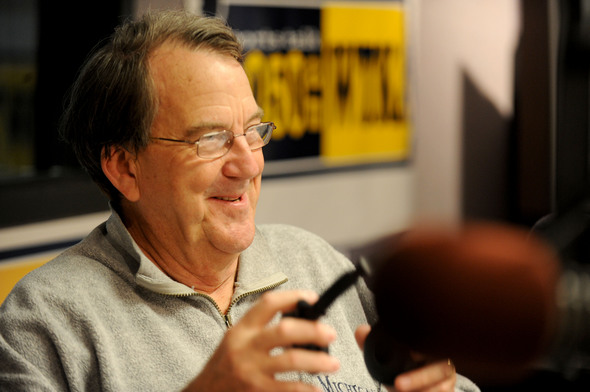 Angela J. Cesere | AnnArbor.com
Lloyd Carr
knows all about fast starts, after debuting as the
Michigan football
team's interim coach by erasing a 17-0 deficit in a memorable win against
Virginia.
He also knows how difficult it is to sustain momentum, after proceeding to lose four games in that 1995 season.
That's part of why he has such great appreciation for what Brady Hoke accomplished in his first year as Michigan's coach: 11-2 record, beat Ohio State and won a Sugar Bowl championship.
And he did it with players who were chewed up their previous three seasons.
"In my judgment, what he did last year was really special because he came in and he took a group of kids that he hadn't recruited and he earned their trust and their respect, and you could see the way they played," Carr said Tuesday during an interview on the Huge Show.
"I mean, that team played hard from start to finish, and I think that's a mark of a coach. Do your players play hard all the time?"
Part of what stunted former coach Rich Rodriguez's tenure was the team's slow start in 2008, when it went a program-worst 3-9.
Rodriguez insisted on running his spread-option offense, even though he had players -- and especially quarterbacks -- better equipped for a more traditional pro-style offense. He said it would help expedite Michigan's move to the new offense -- and it proved to be true, as the Wolverines put up big offensive numbers in 2009 and 2010.
But 2008 was a black mark.
Carr said he believes Michigan was so successful in Hoke's first season because he didn't ask players to operate a system that wasn't fit for their skill sets -- particularly dual-threat quarterback Denard Robinson.
"I think they did a tremendous job offensively, utilizing Denard (and) what he can do, as opposed to trying to force him to try to do things they'd like to do," Carr said in the interview.
"But I think the big difference was certainly on defense. I thought that staff took a group of players that had not had much success the previous three years and molded them into a team that really fought and got better and better. And, I think their kicking game was much better."
Carr said he learned under former Michigan coach Bo Schembechler that an important measure for a coach and team is how they finish a season.
"And of course, when you look at Brady's team beating Nebraska and Ohio State and Virginia Tech to end the season, I think it gave great momentum to their recruiting, I think it gave great momentum to their program, and I think he did a wonderful job," Carr said.
Now, Michigan is facing rising expectations ahead of a season in which it will face one of the most difficult schedules in the country. There's also been considerable turnover on both lines, points of emphasis with Hoke.
Carr isn't worried, citing Hoke's eight-year run as a Michigan assistant for him from 1995-2002.
"(Hoke) certainly has enough experience at Michigan to know what the expectations are, and those aren't going to change," Carr said. "If anything, they're going to get higher. So, that's why there's no off days for a coaching staff.
"I think he's got a coaching staff that is very motivated -- very young in some instances, but they're a veteran group with him. He brought basically his whole staff here from San Diego State. They will know this fall because they played so well, and had such a wonderful season a year ago, there's no doubt the expectations are going to be very high."
Carr also discussed in the interview his retirement, induction into the College Football Hall of Fame and the scandal at Penn State. Check out the full audio here.
Kyle Meinke covers Michigan football for AnnArbor.com. He can be reached at 734-623-2588, by email at kylemeinke@annarbor.com and followed on Twitter @kmeinke.