Posted on
Thu, Dec 8, 2011 : 8:15 p.m.
Rich Rodriguez: I would have gone 'at least' 10-2 this year as Michigan football coach
By Kyle Meinke
Brady Hoke earned Big Ten Coach of the Year honors and has been nominated for multiple national coach of the year awards for turning around the Michigan football team this year.
He led the Wolverines to a 10-2 record and Sugar Bowl berth, and has been credited with resurrecting the program after a rocky three-year tenure by former coach Rich Rodriguez.
Thing is, Rodriguez thinks he could have done the same thing.
"Yep ... at least," Rodriguez told radio host Bill Simonson of "The Huge Show" on Thursday, when asked if the Wolverines would have won 10 games under him this year.
"That's just being confident, and things going the right way. Their coaches have done a terrific job, but it's just frustrating for me to watch at times because those are all my guys. I'm happy for them. I would've liked to have been there to share it with them, but I'm in a great place now. I've moved on."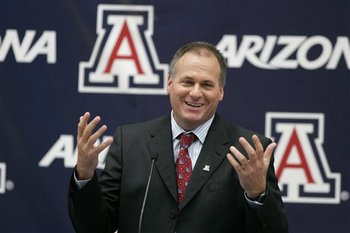 AP Photo
Rodriguez, who recently became the head coach at Arizona, went 3-9 his first season at Michigan, a program worst. He improved to 5-7 his next season and 7-5 last year before losing in the Gator Bowl.
He was fired days later.
"At Michigan, we just ran out of time," Rodriguez said. "Had we been able to finish the job that we were hired to do, I thought we were going to have great success. Certainly they've done a terrific job this year, and they're having that success.
"It's just frustrating for me to watch them at times, because those are all my guys."
Other topics addressed by Rodriguez:

On whether he's put Michigan behind him: "Oh, yeah, I think you have to. Coaches are all kind of forward-thinkers. They want to worry about what's next as opposed to reflect. I reflected for six or seven months when I was doing TV, and that was enough. ... I think you have to learn from the past, I think it's always important to go back and see what you could do better."
On what he learned from his Michigan experience: "More than anything else, make sure I'm surrounded by everyone who's pulling in the same direction, whether it's coaches and players and administrators and everyone involved with people who touch your players. ...
"(Also), sometimes, you've got to convey your message earlier and more often. And, even though I felt we were doing that in the past, maybe I wasn't doing that as well as I would have liked to.
"And certainly defensively, there were some mistakes being made. I think a lot of times, it was, if you look at those guys who were playing as true freshmen, and still learning and growing and, unfortunately, they had to play before they were ready. And now that they're experienced, they're playing well. They're getting coached well, certainly, but I think it's also the fact they're growing up. They were men before they were boys."
On what is the No. 1 thing he wishes he would have done differently: "I don't think there's just one thing. I would like to say there's one thing. Certainly, (I wish) we would have been a little bit better defensively, but ... I think it's a little too simplistic to say that, because when you get your two corners hurt, and you got to play true freshmen who are really good players, and are going to be really good players, but you have to play guys before you're ready to, I think there's more to it than just that answer. But, again, right now, because I've moved on and I think everybody's moved on, I'd prefer not to think about it much."
On reports that indicated he wants to play Michigan: "No, that was blown out of proportion. I was just teasing about that. If it happens in four or five years, then great. I wouldn't want to play against the guys I recruited, because I think we recruited some pretty good players. ... That was said in jest. I'm not worried about my future schedule. Right now, I'm trying to hire coaches and recruit players and get ready for my first game Sept. 1."
On whether he would play a Josh Groban song at an Arizona team banquet: "No, no, that's not going to happen."
Twitter reaction
Rodriguez says he would have gone "at least" 10-2 this year at Michigan. AnnArbor.com conducted an informal Twitter poll, assessing where others think Michigan would have finished under Rodriguez:
MDeLuca_Goal: "UM couldn't field a punt properly, tackle, kick a fg or line up correctly on D in Rich Rod's 3rd year. Maybe 8-4 under RR in 2011."
lindsayerin1: "7-5; 8-4 at best. Couldn't have won games without the improved defense. Denard's improved accuracy was also key in last few games."
breakfast99: "7 wins max. Loses to SDSU OSU and ND"
mrendel10: "7-5, he would have lost to MSU and Iowa, as well as ND, Nebraska and OSU. No way of knowing but he wouldn't win in B1G w/o defense"
Isaiahhole: "9-3. Loses to all 3 rivals."
djsparr: "RR no defense. Head up his rear end about how to win in the big-ten. unwillingness to self-analyze? 6-6 at best."
jihadistjohn: "either 10-2 or 11-1 with his guys...dead serious...cram it, bo worshippers...he won us just as many national titles as RichRod did"
chrisbarnett91: "lets just say this my #Buckeyes woulda beaten them 45-7 and we finished 6-6 Nuff said"
JoshSlagter: "8-4 ... I'd guess two Ls out of these four wins: Notre Dame, Northwestern, Ohio State and Nebraska. And 8-4 might be the high point, depending when the Ls come. RichRod teams just collapsed after early Big Ten trouble."
Kyle Meinke covers Michigan football for AnnArbor.com. He can be reached at 734-623-2588, by email at kylemeinke@annarbor.com and followed on Twitter @kmeinke.